Your ULTIMATE 7-Day North Island Itinerary for New Zealand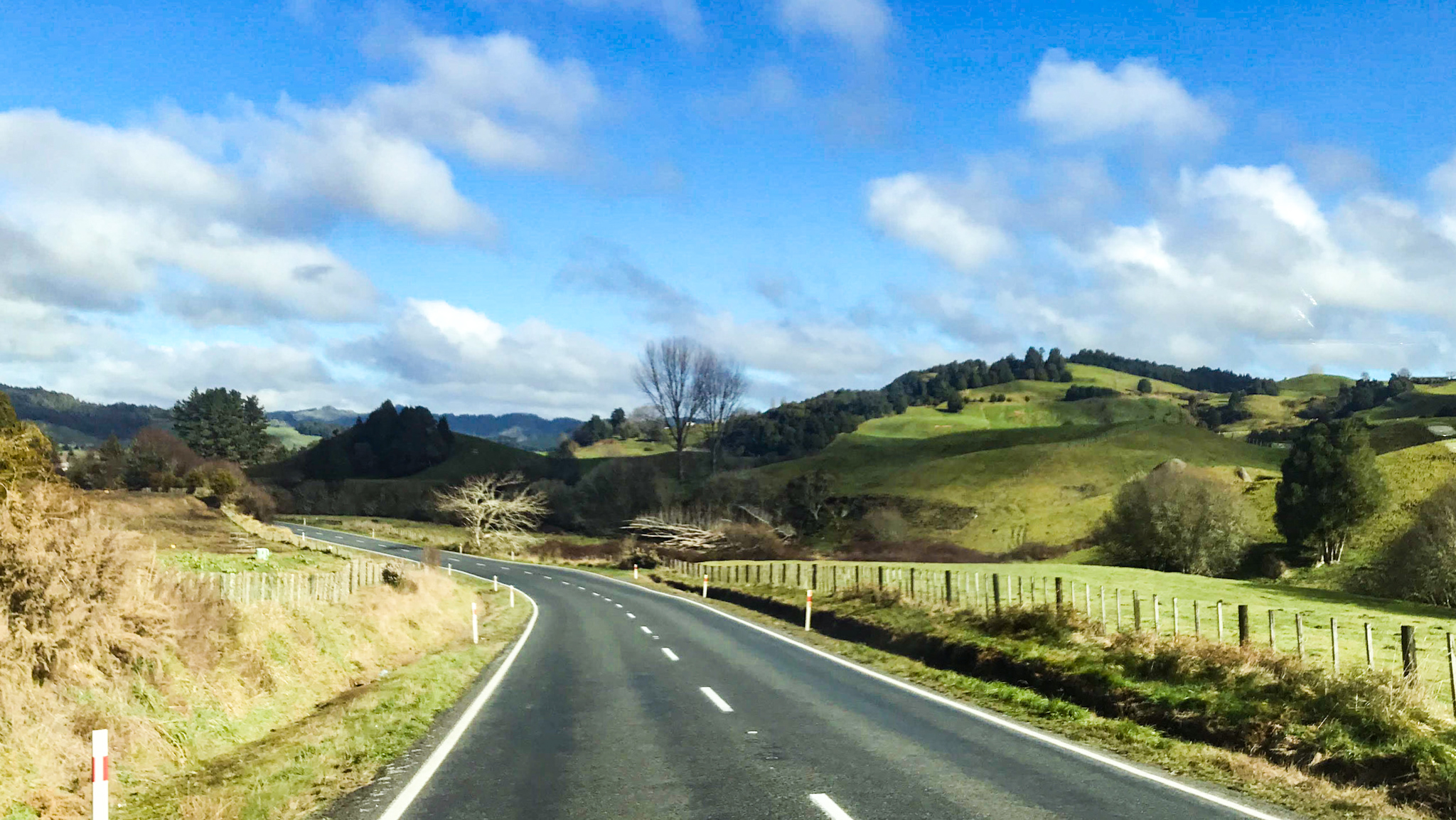 Getting a complete glimpse of all of New Zealand in about a week is pretty daunting, to be honest! There is just so much to see, especially since it is split into the North Island and the South Island (and you can only cross via ferry or plane!).
With that said, this post focuses just on the North Island — which holds so many beautiful gems on its own! I spent WEEKS researching, physically scouting and planning this exact itinerary for my family when they came to visit; so, rest-assured a lot of work has been done beforehand!
Below is the itinerary and, though it may seem intense, it's a great mix of nature, culture and food!! I was determined to let my family not only see the best, but also experience the best. So, off we go!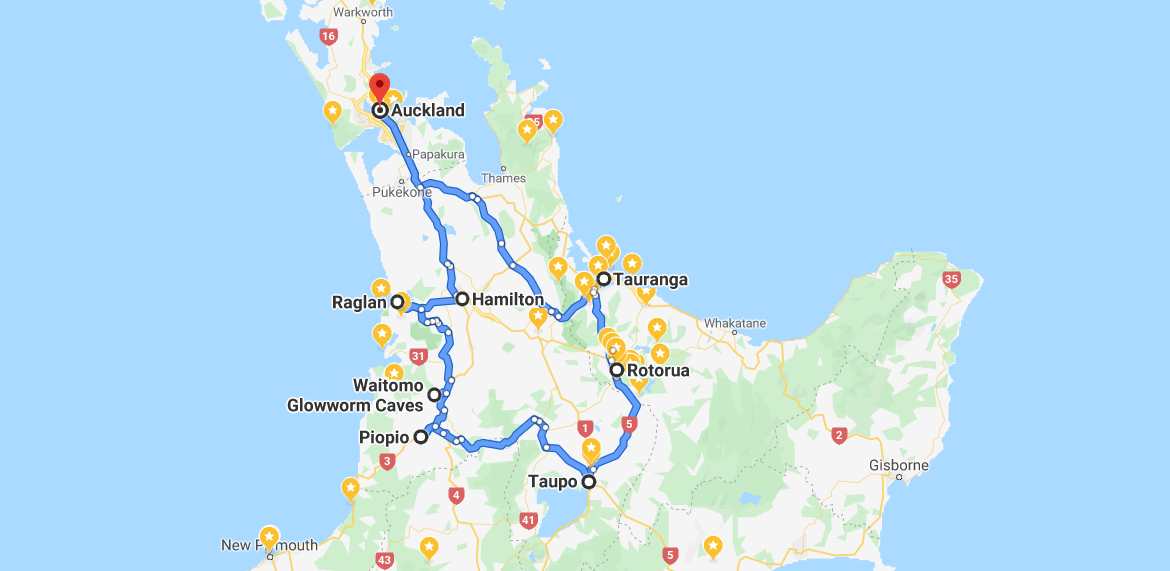 NOTE: this itinerary was made with a car rental for Auckland and then a camper van from Maui for the rest! If camping it all isn't your thing and you'd like to book hotel accommodations instead, then that's great, too! But, you will need a car. I promise it's so worth it; driving is actually the best way to see New Zealand in my opinion — especially if you rent a camper van and can sleep at all the beautiful sites!).
DAY 1: AUCKLAND
You have probably flown into Auckland Airport, collected your car rental/popped into an uber and are on your way to your hotel or AirBnB. Congrats on making it to this beautiful, beautiful, BEAUTIFUL country! So much awaits!!
Use this time to settle on in, freshen up, take a nap if you need it, or go out and explore your neighborhood! I am working on a post with restaurant recommendations in Auckland, but for the time being, explore your little heart out and go where the wind takes you around your accommodation! Starting tomorrow it will be a series of adventurous days, so you'll need all your energy ;). And do not fret: you did not travel all this way just for a city. The picturesque New Zealand is coming; but, for now, enjoy the most modern amenities around!
NOTE: if following this itinerary, I recommend renting/hiring a car for three days: the 1st day you land, the second day for full exploring, and the third day to wake up with and return that morning so you can pick up your camper. // If you're not camping in an RV and are booking hotels instead, then rent/hire the car for the day you land until the day you depart!
DAY 2: AUCKLAND + PIHA BEACH
morning —
Start your morning off by heading to Takarunga/Mt. Victoria in Devonport and either drive or walk up to the top where you will find pretty sculpture mushrooms hanging around. Enjoy the breathtaking views of Auckland city and the cannot-miss Rangitoto Island in full view; it is Auckland's youngest active volcano (only 600 years old!). PS: if you really wanted to, there are ferries that will take you to Rangitoto Island for a hike!
Next, make your way back towards the city, stopping at the Mt. Eden Summit. While you cannot drive all the way up, know that your climbing efforts will be rewarded with a huge, 50-meter crater. It's quite unbelievable. Fair warning, though: watch your step as there are no railings!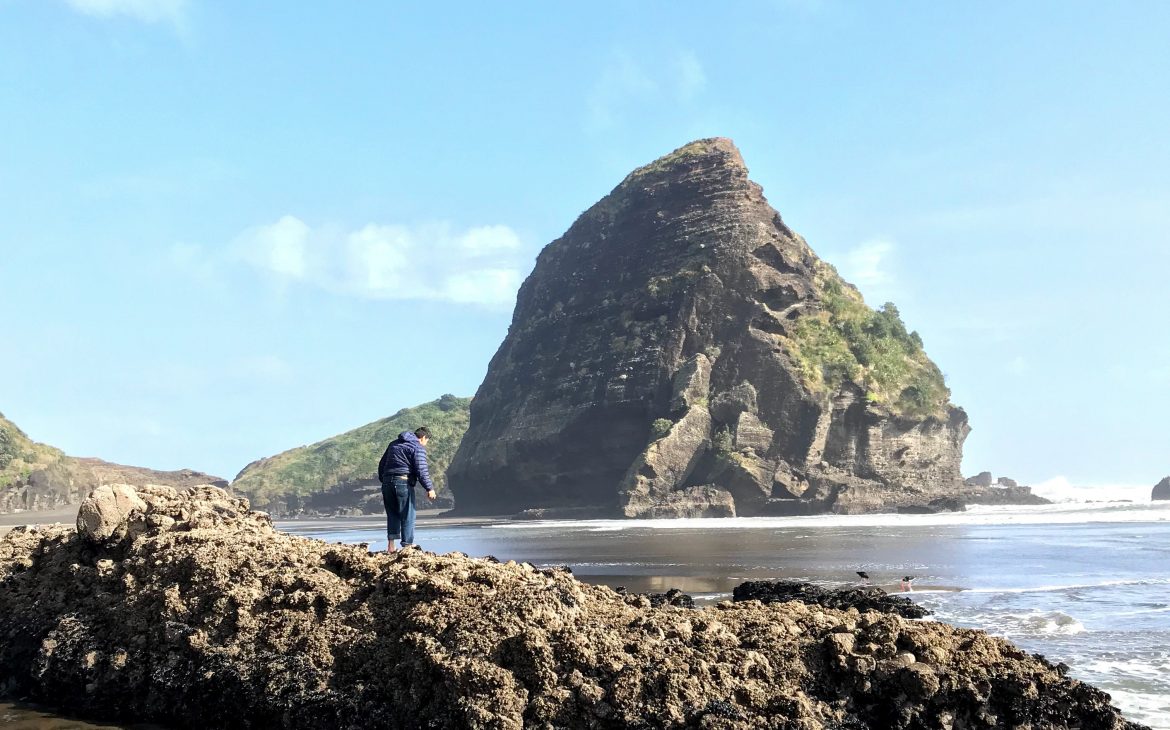 After you make your way back down to your car, drive out west 45 minutes towards Piha Beach. The road there (as it is in much of New Zealand) can be a bit windy (curvy); just remember to stick to your left and enjoy the ride as you arrive to the beautiful, black sand beach. I highly encourage you to take a stroll along the coast while taking in the insanely beautiful views. If open, a little 10-minute hike up Lion's Rock will give you an outstanding bird's-eye view of the beach. Lion's Rock is a sacred spot, so remember to be respectful :).
afternoon + evening —
Fulfill the worked up appetite at The Piha Café. Their food is made fresh and, while may seem a bit costly, is absolutely, 100% worth it! This was one of the most memorable places my family ate at — they still rave about the food here! (just remember the way it works: you go up to the till and order your food, you are then given a number, and, when ready, will be brought out to your table!).
Drive on back to Auckland's city center after lunch and end your day exploring! The Sky Tower is the giant needle-point structure you probably saw when you first got to Auckland. If you're feeling like a bit of a daredevil, you can either walk along its ring or jump off the tower! SkyCity Casino is inside if you're feeling lucky, too. There's tons of shopping to be done on the main streets, though I prefer walking along the viaduct to see all of the yachts (Auckland isn't called the City of Sails for nothing!) towards Wynyard Quarters and Silo Park. There are tons of restaurants around here for dinner to choose from. If you're looking for a dessert afterwards, highly recommend Giapo Ice Cream; started by a wonderful little Italian family, they offer seasonal flavors on rotation and an extensive list of add-ons. tip: you can taste all the flavors you want; share a cone — they are HUGE!!!
DAY 3: HOBBITON + MT. MAUNGANUI
morning —
Today the plan is to leave Auckland and make your way towards Matamata. You'll begin to see the amount of buildings dwindle and the New Zealand you see in brochures start to appear: beautiful, green hills adorned with sprinkles of sheep! It's going to be about a two-hour drive, but the drives in New Zealand are simply STUNNING. Just make sure to not get too distracted and keep your eyes on the road ;).
Arrive to Matamata's iSite for a little hobbit house you can actually go into (nice photo opp :)) and request some information. Alternatively, you can skip this and head straight to Hobbiton! The drive to Hobbiton will seem like you made a wrong turn somewhere as you'll be going deeper into what seems like farmlands: keep going. Beauty awaits!
NOTE: book your Hobbiton tickets in advance; the earlier you book, the better! Tours are very frequent during the day, but they do sell out. You can purchase tickets on your phone and just show them the confirmation email when you arrive! Also, there is a gift shop and a café on the premises!
afternoon —
Afterwards, make your way towards Mt. Maunganui in Tauranga, but not before driving by the small town of Tirau first for some cool corrugated store-fronts. Hopping out of the car and taking photos are highly encouraged! As you drive out of town, ~15 minutes later you have the chance to stop at the Kaimai-Mamaku Lookout for a scenic landscape views and another photo-opp!
As you enter Tauranga, making your way to "the mount" (the giant mountain-looking thing in the distance), stop by Mount Fish & Chips for some take-out fush n' chups (fish and chips!)– this place is one of my two favorite places in the whole country! ;). Fresh Tarakihi, breaded, with one scoop is how I do it! Take your order to the shores of Mount Maunganui Main Beach and enjoy it how local kiwis do!
Afterwards, if you're feeling bold, hike on up to the top of the mount (may take about 30-40 mins) or take it easy with a stroll around the base — both are equally as beautiful (though the views from above are always a hit!).
evening —
To end the day, soothe your body with a dip at one (or all!) of the various heated hot pools at The Mount Hot Pools (so relaxing at night!) and catch a relaxed dinner in town at one of the many yummy restaurants like The Rising Tide, The Barrio Brothers Mount Maunganui or The Social Club.
DAY 4: ROTORUA
morning —
After your brekkie, jump back on the road and a 40-minute drive south will bring you to one of the most cultural places in all of New Zealand: Rotorua; it is actually the best place to get to experience some of the Maori culture. As you make your way into the city, you may smell something that is similar to that of boiled/rotten eggs — it's all natural. What you're actually smelling is sulfur from the earth. Do not worry, it is totally safe (I researched this for HOURS one night) and it's actually pretty cool.
First stop: Skyline Rotorua. Get in line and grab your tickets for the gondola ride up to the summit and luge rides that only uses gravity! It's such a fun family activity for kids and adults alike! (tip: bring gloves for the luge rides for warmth!). Additionally, if you're the adrenaline-seeking type and are looking for more adventures, there is also a swing up there, along with some zip-lining! The choice is yours :).
afternoon —
Take in the beautiful views with lunch at The Stratosfare Restaurant — I cannot recommend it enough! Now, I'm never a fan of buffets, but this one is a game changer. All of the food is locally sourced and they offer local New Zealand dishes for you to try! It's all set with panoramic views of the city. Simply beautiful.
If you make it back down to the Government Gardens in Rotorua by 2pm, there is a free Outside the Walls Guided Tour you can join to learn more about the history of the city, including the battles that took place, to its urban development. Don't despair, though: if you don't catch the tour, you can still walk around the gardens on your own!
Need a little coffee boost? Revolver Espresso will give you just what you're looking for as you take a stroll around town, perhaps popping into the many gift shops around.
evening —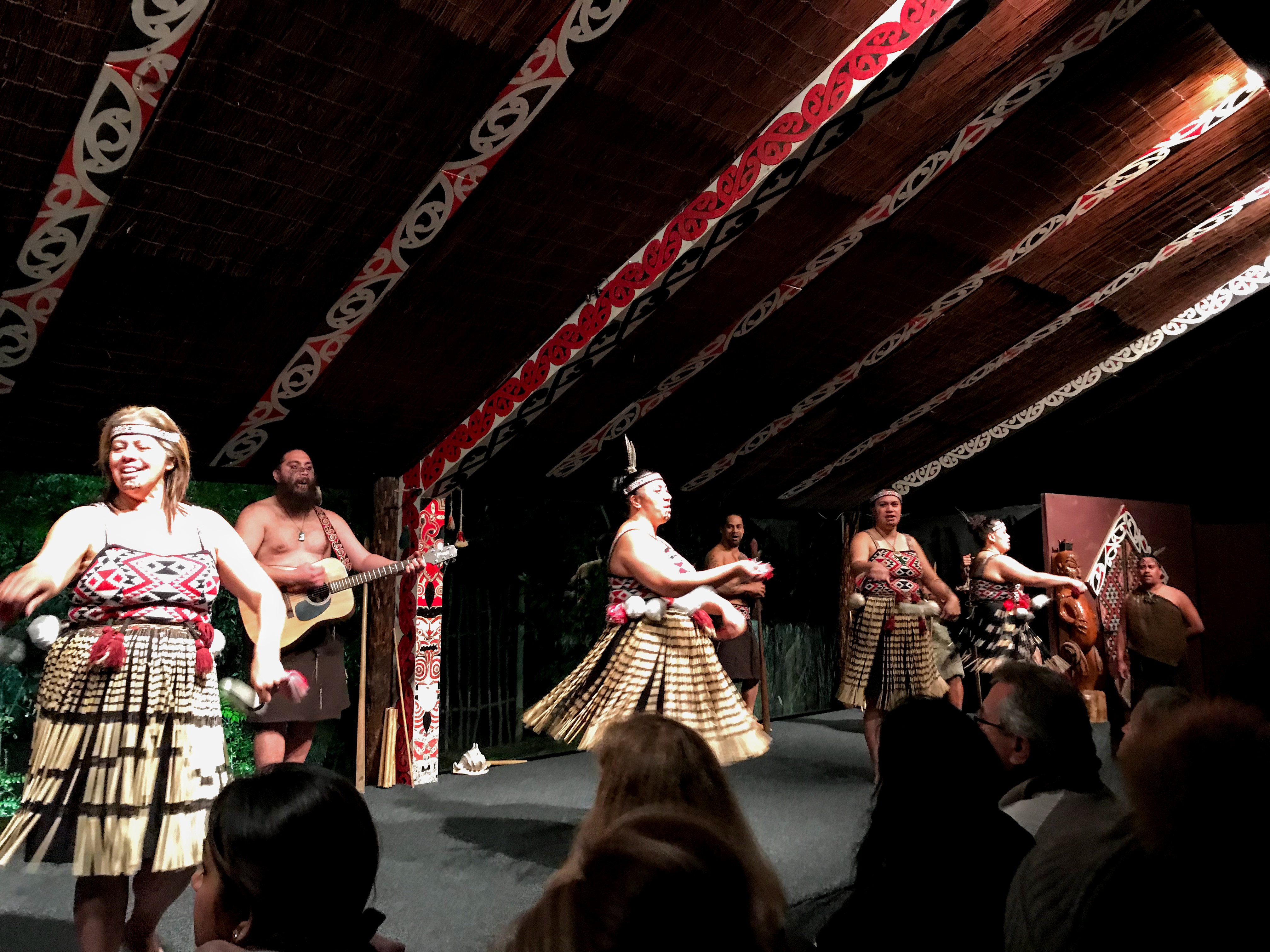 A visit to Rotorua isn't complete without a show and a traditional hangi dinner. Hangi is the Maori traditional way of cooking that utilizes heated rocks underground — and sometimes hot, geothermal water!). There are cultural institutions that make learning about the natives of New Zealand possible such as Tamaki and Mitai.
We booked with Tamaki and enjoyed an evening of being taken to a recreated village, complete with an encounter performance, learning all about the different games and roles individuals had in the community, followed by a beautiful performance that included traditional songs and a haka. The evening ended with a buffet hangi dinner. I will be very honest and say that it wasn't exactly the most savory/well-seasoned meal I had, but considering that the potatoes, sweet potatoes (kumara), carrots, stuffing, chicken, pork, etc. etc. was all cooked underground, well, it was a nice experience :).
Rest up, tomorrow is another adventure!
DAY 5: ROTORUA + TAUPO
morning —
An early wake-up call has you heading down the island 15 minutes to the Waimangu Volcanic Valley, an untouched part of the earth that boasts geothermal activity (with the world's largest hot spring), luscious greenery and promises to be as close to what it looked like back in the dinosaur days (heck, I'd be a very happy dinosaur!). Allow yourself a couple of hours to walk around and take in all of the sights. Oh, and the gift shop is also pretty well-stocked, too.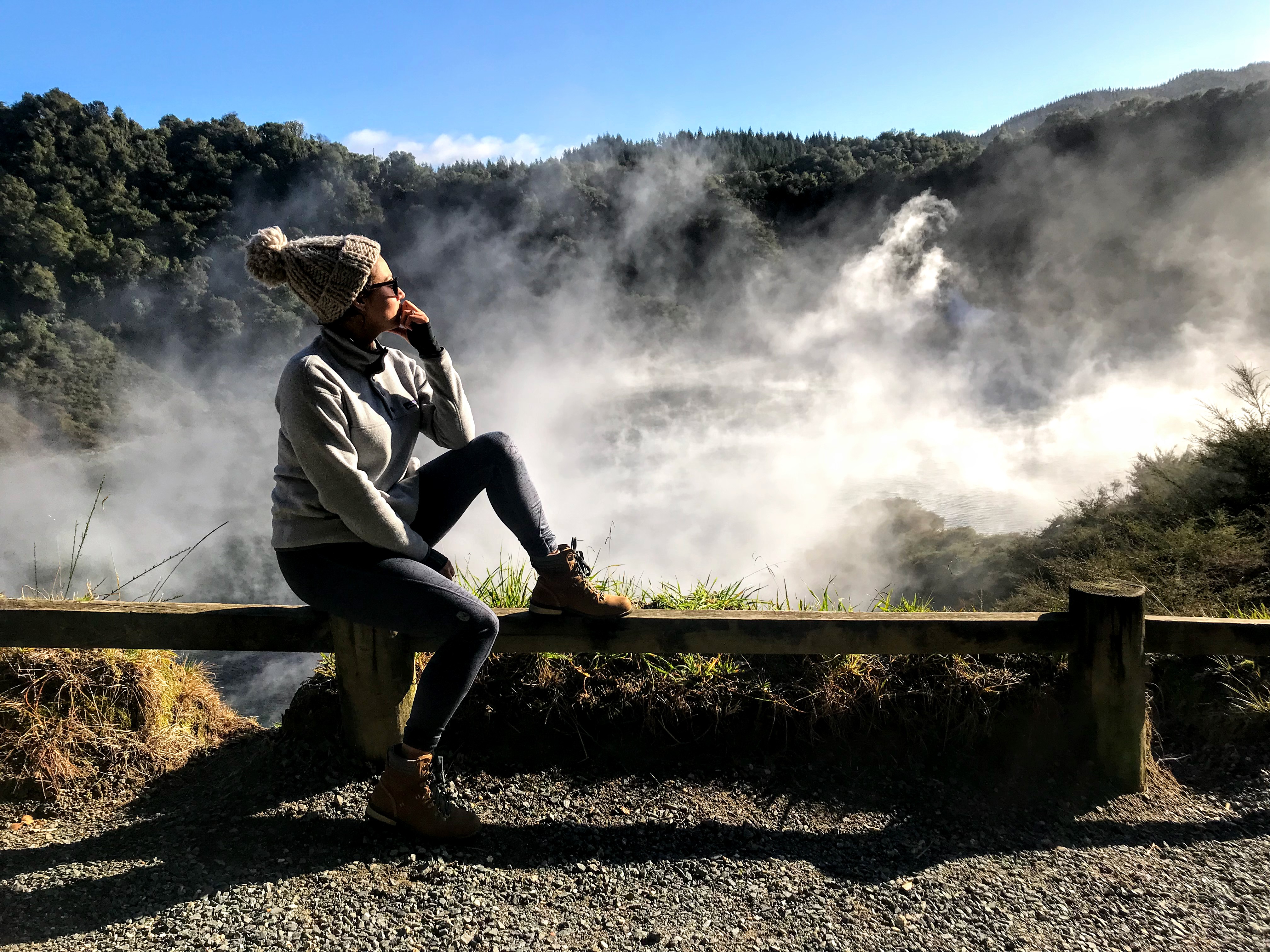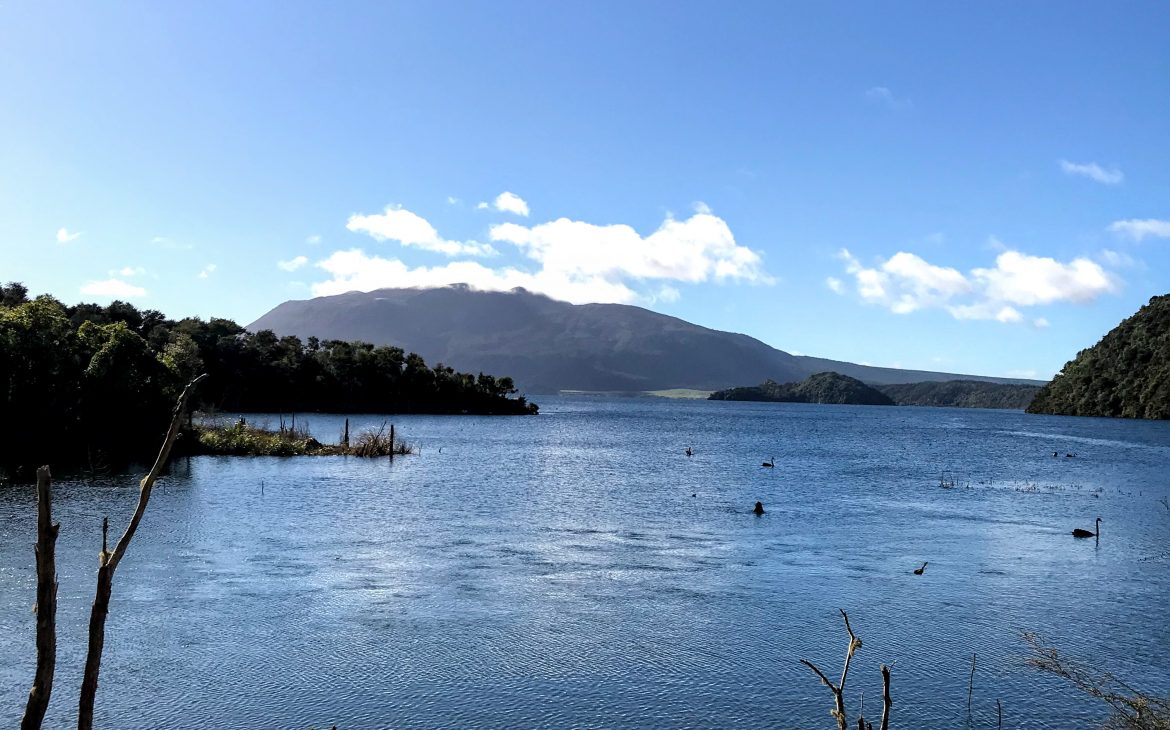 afternoon —
Long walks call for lunch and The Landing Cafe by Lake Tarawera is a good option before continuing to your next stop: the adventurous city of Taupo.
Along your way to Taupo, make sure to stop by the Aratiatia Dam and Rapids, a beautiful dam that opens its gates several times a day to let water down the river (make the 2PM one to stay on course with this itinerary). Additionally, a stop to Huka Falls Lookout cannot be missed. This is where you will find the bluest and prettiest water your eyes may have ever seen! Not only that, but it also supplies power to nine hydro-electric power stations in New Zealand!
Wai means 'water' in Māori (one of official languages of New Zealand) and that's exactly what you'll be dipping into next! Natural, geothermal activity gives New Zealand the beauty of having hot pools to soothe your body. Filled with natural-occurring minerals, the waters can help with things like improving blood circulation, digestion, relieve stress, ease muscle aches, and more.
Wairakei Terraces and Thermal Health Spa is peaceful and one of my favorite hot pools in all of New Zealand. Bring your swimwear, a bottle of water and flip flops (or jandals as they are locally known) and experience a couple of hours of relaxation on your vacation. They have spa services available, too, if you're up for a massage.
Expert Tip #1: Check to see if GrabOne (like Groupon) is having a special and book your tickets through here.
Expert Tip#2: Please, stay hydrated. If you feel like taking a break from the thermal waters, take a break and sip, sip, sip :).
evening —
Travel back to Taupo and head to dinner at Two Mile Bay Sailing Club for some lake-side dining in a fun, cozy and casual environment (where LIVE music is often scheduled) or Master of India — an Indian restaurant that will make you feel like you've transported to India itself with its fun decorand yummy food :).
DAY 6: TAUPO + WAITAMO + HAMILTON
morning —
Pop into one of the various cute cafes and shops for breakfast– Replete Cafe and Store is a good one as it also has outdoor seating 'al fresco' if that's what you're after on a nice, sunny morning. Or simply pick something up and go eat it by Lake Taupo and then take a stroll on the walkway. Lake Taupo is actually the largest lake in all of New Zealand and, fun fact, is actually a large volcanic crater! Tons of activities to do on the lake, but that's for another post ;).
afternoon —
Jump in the car and get ready to head to your next experience: the Waitamo Caves where you will be looking at some glow worms inside a dark cave! Now, the drive from Taupo to the Waitamo Caves is about 2 hours — but you have to make a small detour and have lunch at Fat Pigeon Cafe in PioPio. Okay, you don't have to, but it's such a good place!! I highly recommend. While living in New Zealand, any chance we had to come in here (no matter how out of the way it was) we always made it happen! The food is absolutely delicious! Just make sure that you're timing yourself well to make it to the caves in time (35-minute drive from PioPio).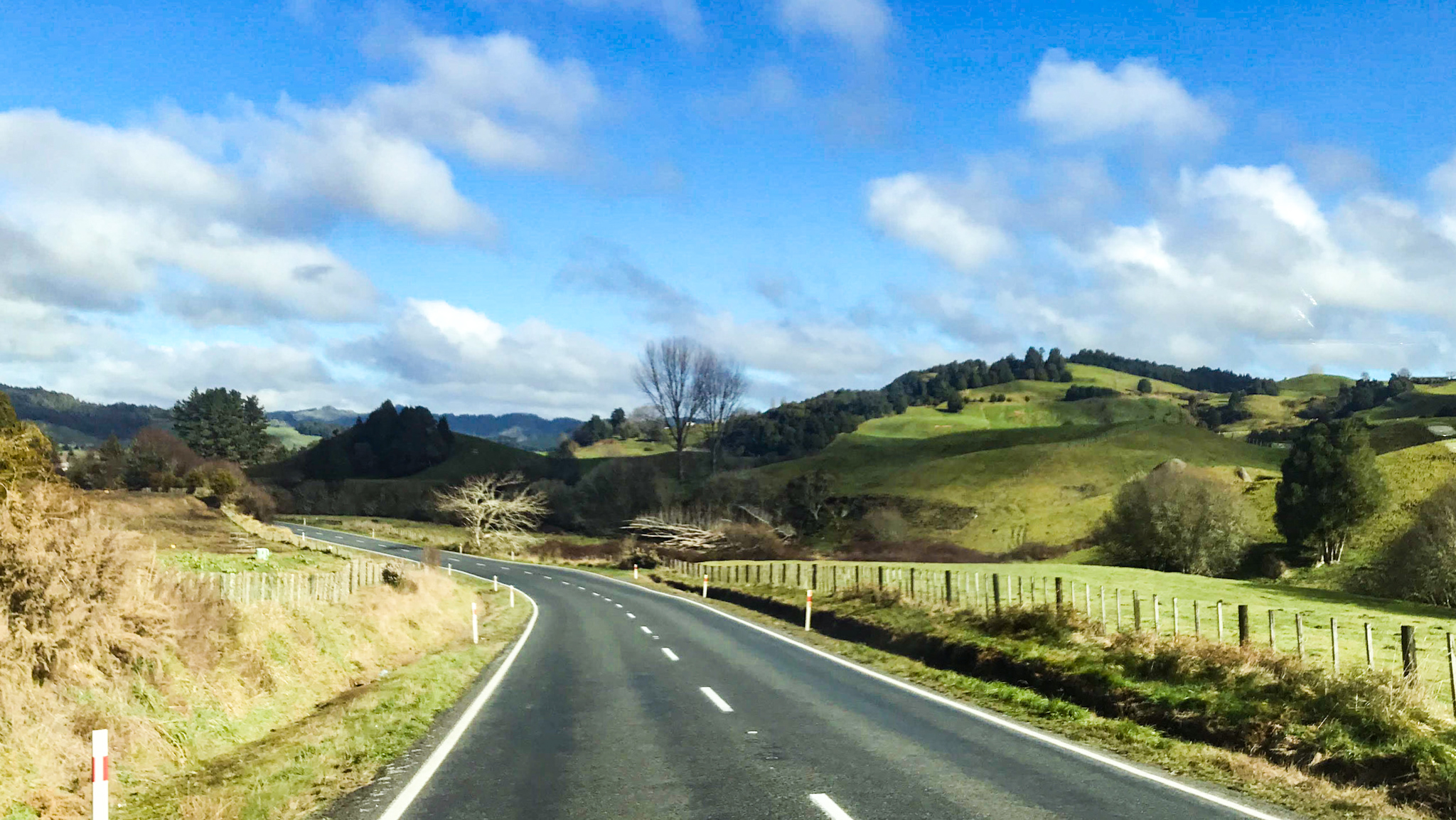 Finally arrive to the Waitamo Caves, an underground cave system that will have you getting into a boat and traveling in total darkness through, what seems, like a tunnel under a million stars. It's actually millions of glow worms that release a sticky, glowing saliva to catch prey (usually little flies attracted to light). Do not worry — it isn't gross nor creepy! It's actually an amazing experience to see how evolution allows these critters to keep living on — generation after generation! Oh, there's also black water rafting and zip-lining (all underground) — if that's more your jam ;).
late afternoon + evening —
A careful 35-minute drive up north leads you to Bridal Veil Falls in Raglan. Park at the car park and walk 10 minutes via the signs to the site. Bridal Veil Falls is a beautiful 55-meter (180-foot) waterfall that, as its name suggests, looks like a bride's veil. There are different viewing platforms that allow you to see the falls from different perspectives. The main trail takes you all the way to the bottom of the falls via 261 stairs. I should kindly caution you here that, as many steps you take down, you will need to take them back up. It's so fun descending, but the real work comes going back up the 261 stairs. You've been cautioned — haha!
With a waterfall experience in tow, hop back into the car to drive northeast to the city of Hamilton — it's about an hour drive and where you will spend the night. Hit up Bowl & Social and get one of their bowling and dinner packages — the food is delicious and it's a modern facility. Alternatively, you can pick a local restaurant and head there or, if in an RV, make dinner in your 'home'! :). However you choose to spend it, you'll definitely be sleeping like a baby tonight — that's for sure!
DAY 7: HAMILTON + AUCKLAND
morning —
You've made it to the last day!! Hooray!! How do you feel? 😉 Inspired? In love? Energized? Exhausted? (haha)
It's important to note that the driving time between Hamilton and Auckland is about 2 hours.
Now, depending on what time your flight is at, you may have just a little bit of time to explore Hamilton before heading back to the airport. If you don't, no worries! You've accomplished so much!!
Take in the drive back to the airport. The rolling hills will dwindle down, traffic may increase, and taller buildings will start reappear. I am in tears here and with chills on imagining what a BALL you've just had!!! This itinerary was very special to me, as I built it with so much love, and now I am finally able to share it online with the world!! This makes it even extra special.
I hope that this itinerary has helped you plan your time here in New Zealand and that you have made the most beautiful of memories. We sure did.
xx,

If this post was helpful, please let me know in the comments below. If you think it was informational and someone else may find it useful, I kindly ask if you can share it. And if you have any questions or feedback, please leave it below! I respond to everyone :).