Fear of Popping a Balloon: Exposed
I know, I know.  It seems silly to be afraid of a balloon popping; but, truth be told, it was one of my greatest fears.  I know it may be trivial to some, but sometimes small things like these are earth shattering to others.
One of the reasons why I want to talk about it today is because I actually met someone this week that has the same fear I once had!  (I thought I was the only one!)
Living with Fear and Getting Over It
I could never be around balloons because they always filled me with anxiety.
I think my fear stemmed from when I was young and was forced to play that terrible game of 'balloon pop'.  Many of the birthday parties I went to had the game where money would be stuffed inside the balloon and the only way to get it was to pop it.  While it seemed innocent, I was actually traumatized by cousins who would take the balloon, put a fork to it, and pop it in my face.  Left… POP.  Right… POP.  Under you… POP. "Hey Loren!… POP!"  Popping was going on everywhere!  And after many birthdays, I suddenly found myself with a fear.
Fast forward to being an adult and cringing when balloons came into the frame; it actually wasn't so 'cute' anymore.  And, since it's somewhat rare, it makes you seem a little… different.  I will never forget that one meeting at work (with about one hundred people in attendance) that ended with a balloon drop; I ran away from that meeting into another room.  While I let people know why I was acting funky and they seemed to understand, I knew deep down inside that there was something more to it than just balloons.
A few months ago, for my birthday, I asked my husband to buy me balloons.  And he did.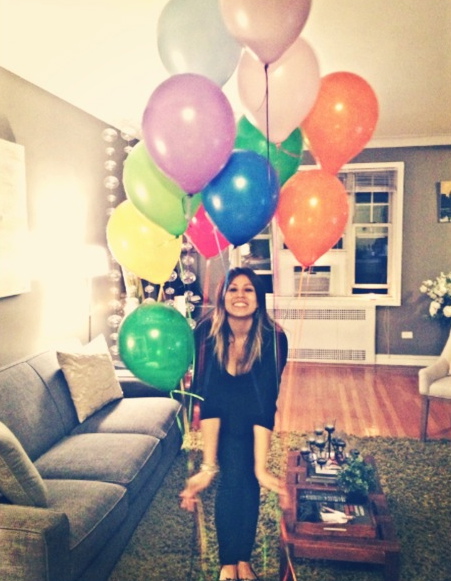 Being afraid of a balloon didn't mean just trying to get over the loud sound, but it meant getting over an anxiety that was housed inside of me for so many years.  And this fear just so happened to be masked with an elastic rubber that comes in a multitude of colours.
A balloon popping is something sudden and usually surprising.  And that was the problem, I was not one to want to be surprised, because I needed to know everything.  I needed to be in control.  I didn't know how to react to a sudden or surprising thing.  The way I reacted when someone teased me by putting a fork to a balloon in my adult life was not normal.  I freaked out, cried and screamed.  And you know what?  I let them get away with it.  I let myself get weak, back down, and never challenged them by saying "Go on, do it."  I was then teased. Constantly.  I let that get added to my list of insecurities and it was my own fault.
So, for my birthday last year, I said enough was enough.  I was tired of running away.  I was tired of anxiety. So I took a ballon and, after a bit of hesitation, popped it!  I then cried.  But, funny enough, I immediately started to laugh.
I then turned into a little bit of a crazy lady and grabbed all of the balloons around the house and popped them all.  It was so therapeutic and I felt years of anxiety melt away!  Not only that, but I grew confident.  Having a fear and just going for it head-on is intimidating, but it honestly is how you get over things sometimes.  And I proved to myself that it wasn't just with a balloon that I could take this experience and apply it to; there were so many other parts of my life that could use this newfound 'bravery'.  I tackled a champagne bottle the following week- ha!  But then I also confronted someone  via conversation.  I didn't let the 'what-if"s' get in the way of me moving forward.  And that was a big learning for me, especially since it came from such a small thing.
Meeting Someone with the Same Fear
So this week, I had the pleasure of meeting myself.  It was actually someone else, but I saw a lot of the 'old me' in the 'present her'. While I know our lives aren't the same and we have different things that attest to who we are today, the anxiety was there.  So I sat with her and told her my story.  She was very much inspired, which I could tell, and was very humbled by.  We had a video shoot that day which included balloons and, by the end of the day, I saw her being able to look at balloons in a different way.  She didn't exactly pop a ballon -and I wouldn't have expected her to- but I saw that she was being very brave and built up the courage to take baby steps forward instead of running back to what she always deemed as 'safe'.  She was laughing the whole day and I was so happy to know that sharing just a bit of my own experience with her gave her some sort of 'hope'.  Even if it's very minimal, it still brought a smile to my face knowing that I helped someone.
Again, again!
I can proudly say that I can pop a balloon with no problem these days.  I have this little bit of 'guilty pleasure' while doing it, which is actually quite funny.  But, ever since then, I proved that I could become more confident and that I do have it in me to be my strongest self.  All it takes is just some self-listening to what it is that you really want in your life, taking the plunge, and trusting yourself.
We went to the park today and I thought I would commemorate that day and my conversation with the girl I had this week by popping a balloon!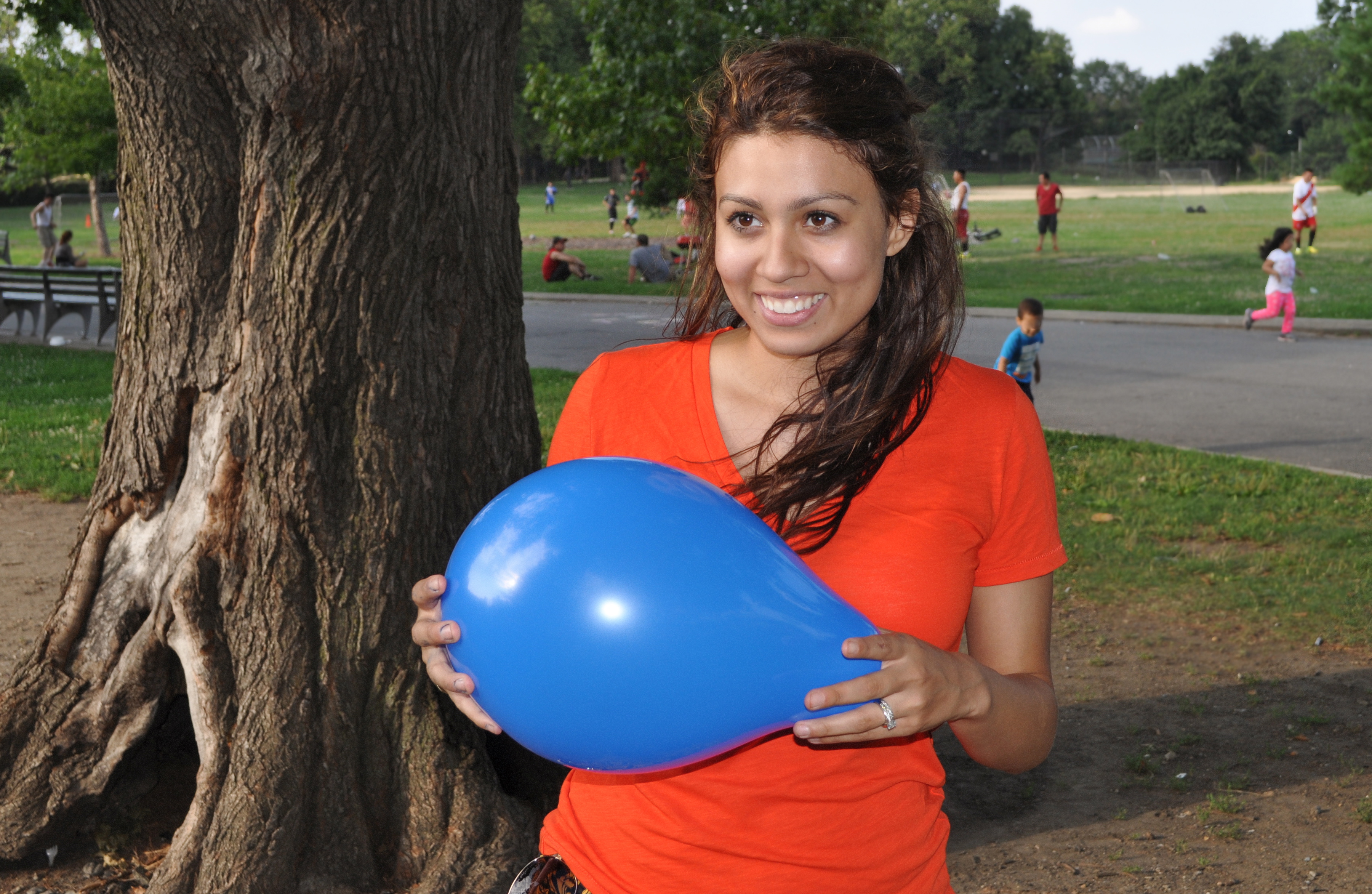 Unfortunately my hand slipped and popped the balloon too quick for me to even plan it. Haha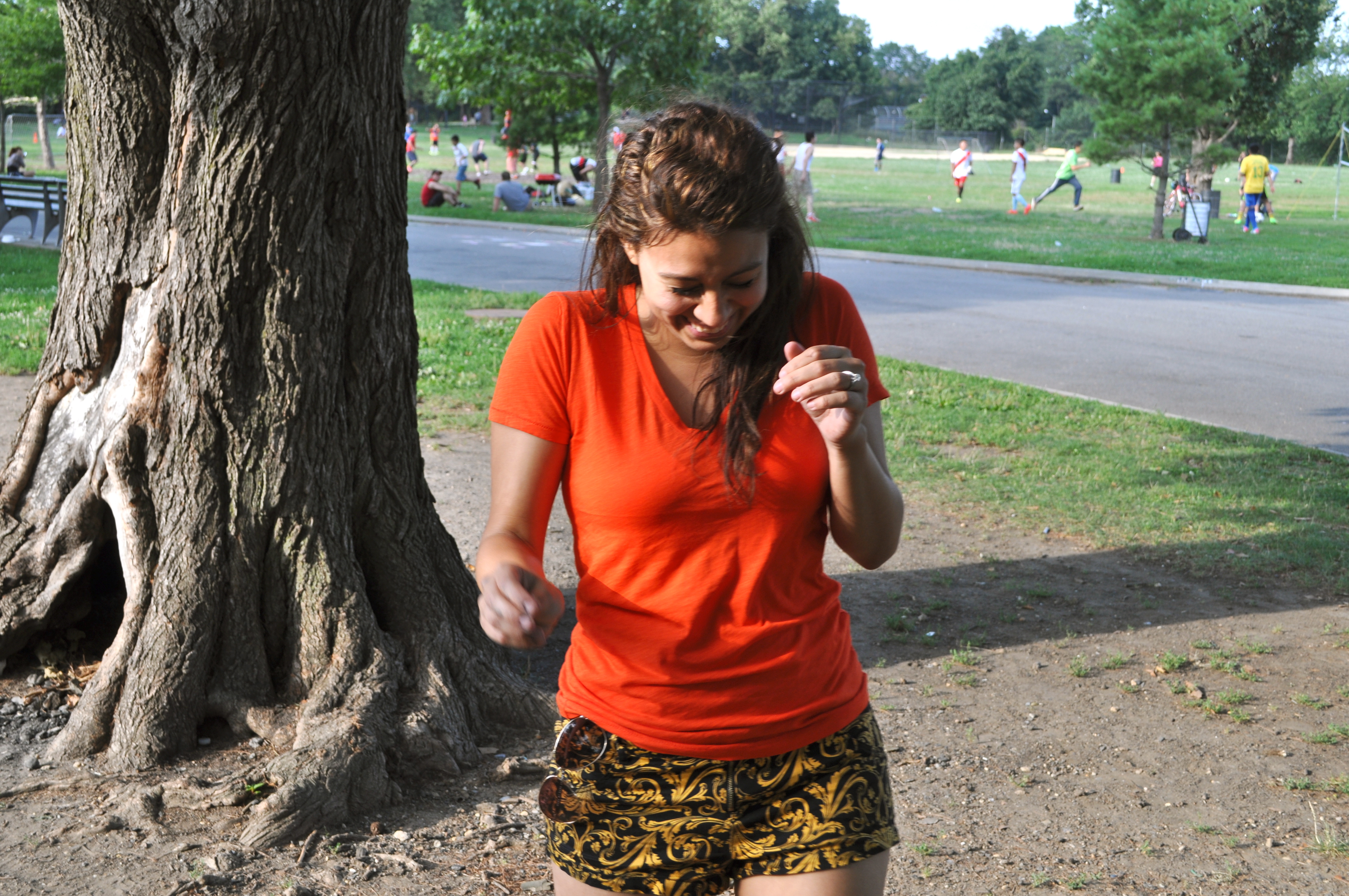 The surprise and suddenness didn't freak me out though; I actually enjoyed it and laughed it off!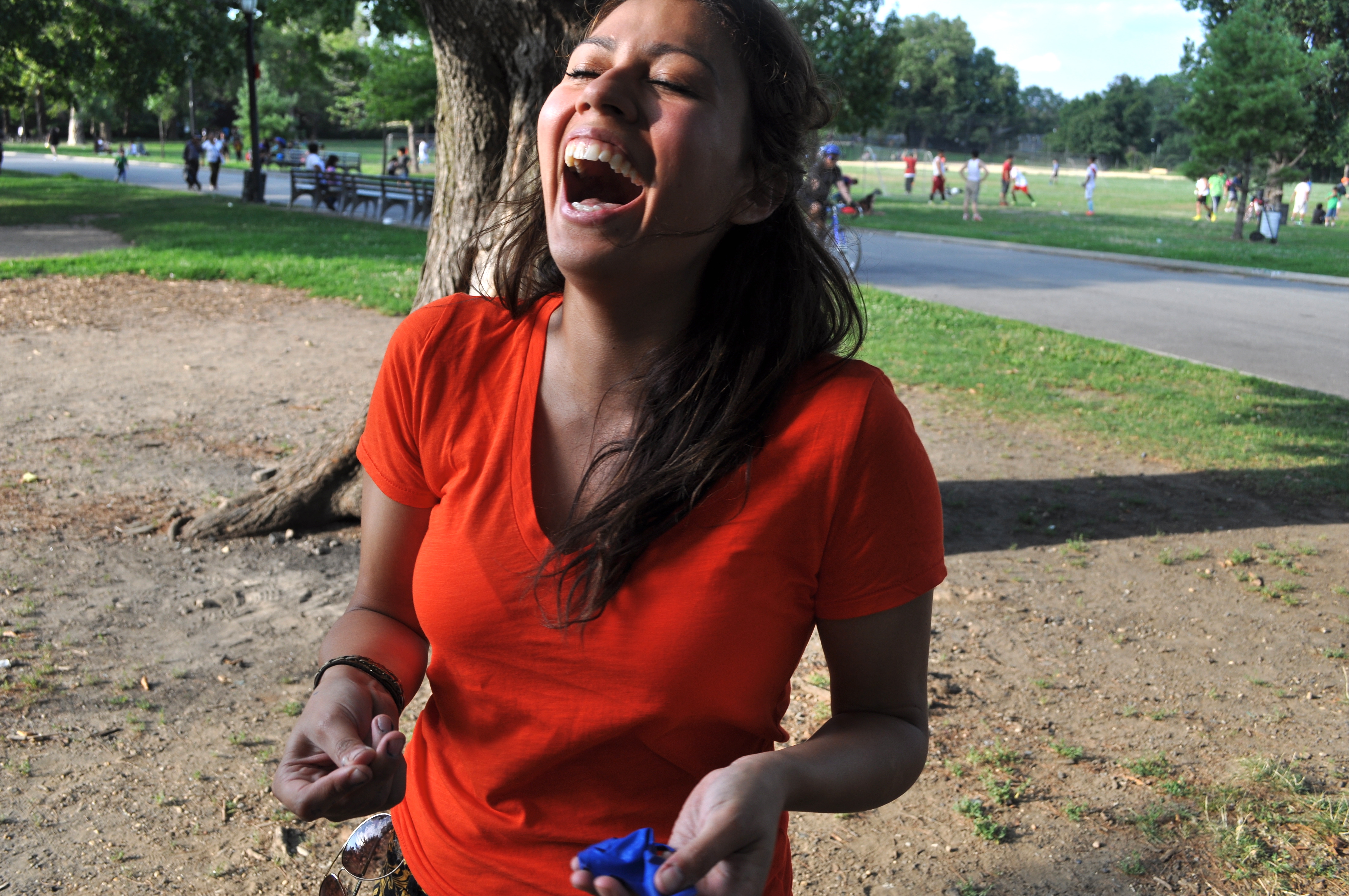 I encourage you to just think about a little fear you may have and why you may have it.  And, if you find yourself building up the courage to say "enough is enough," then do something that will help you get over your little fear.  You may be afraid now, but in a couple of months, you could laugh it off and help someone else.  You never know :).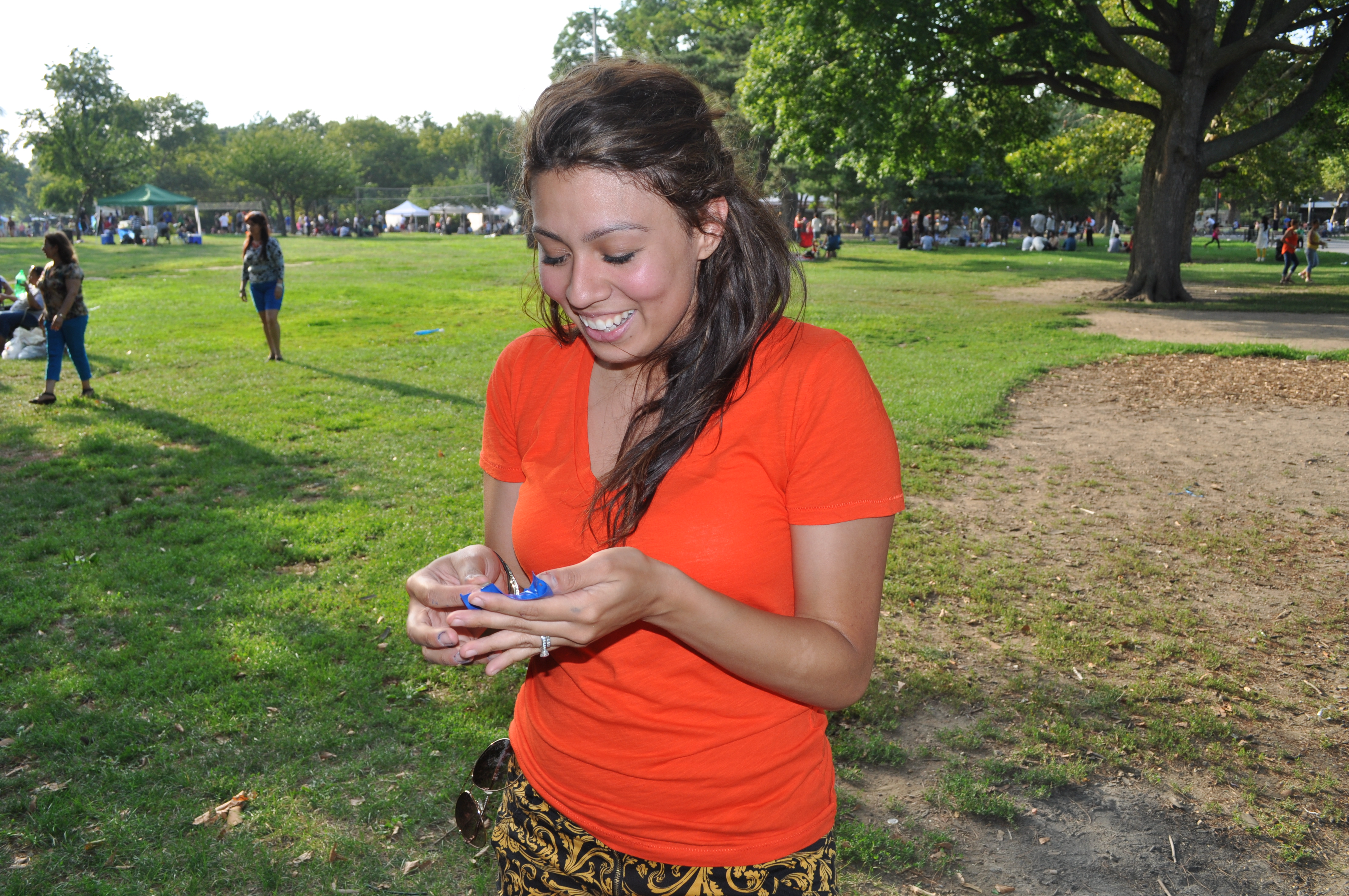 Have a wonderful week everyone! 🙂
Loren.