Stay Calm and Invest On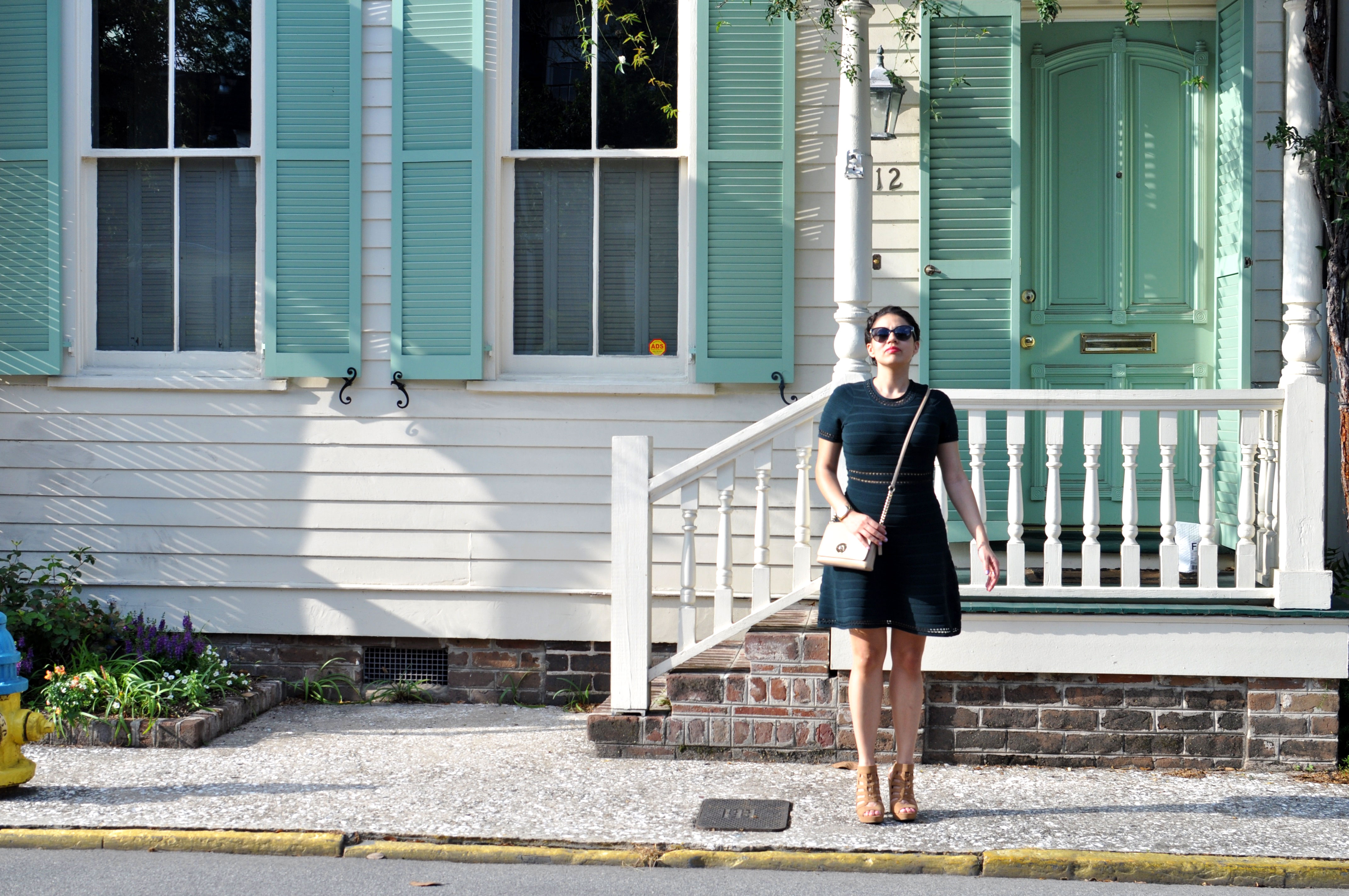 Ah, Sandro Paris. A brand that has been catching my eye with some of its pieces recently.  Now, to be honest, I had sticker shock when I first viewed their collection; but, in my recent learnings, sometimes you pay for those extra little details or that fabric that just feels, well, of a better quality. I've also had my fair share of clothing that starts to deteriorate after a second or third wash and I want a long-term relationship with my clothing these days. So, it was no surprise that when purchasing this Sandro dress (my first!), I had my mother at the back of my mind saying, "Loren, invest in your clothing." Whether it meant this dress or not, I decided to give it a shot.  Continue reading for more behind this simple outfit and a Savannah, GA must-eat!
I've always been a little body conscious (but really, who isn't?) and the little peep-holes around my waist made me feel a little exposed – but in a good way! It was something that I never thought I would wear, but when I tried it on, I just loved how it helped embrace my body with just the slightest of details. It also felt like I had a little secret – but it was one that everyone could see. We should embrace our bodies, yah? I have curves. I have certain assets. I'm not planning on going under the knife anytime soon, so why not love what you've got? Dressing up is way too much fun to care about every. single. thing. that. bothers. us.  Embrace, women! Embrace!
When I saw the dress online I loved how it looked and already had in my head countless ways to make this baby work: dressed up for a nice evening out, dressed down and used as a skater dress, tossed with white tennis shoes to keep it more casual, or more in the middle, like I did here, with just a pair of chunky heels and no added jewelry – just my hair up in a little braid crown with a red lip ;).
Speaking of lips, I always make sure to keep my lipstick of the day stashed in my purse for post drinking or eating – a woman's got to reapply! And I sure had to after having a delicious meal at Collin's Quarter. If you are ever in the Savannah, GA area, go.  It was recommended by friends in NYC, as well as those down in Savannah. The service was impeccable and their Hawaii Five-O (Ahi tuna, sushi rice, avocado, wasabi cream and tempura crunch) was d-e-l-i-c-i-o-u-s.  It's offered as an appetizer and, take it from me, order one for yourself and do not share. You will not want to share ;).
My husband ordered the Big Burger and I the Farmer's Market, a grilled vegetable medley with fresh veggies straight from the, you guessed it, framer's market (you smart cookie, you ;)).
After eating, we continued on exploring the city and all of its beauty.
Now, I love my heels as much as the next girl, but I have learned my lesson with heels many-a-times. First of all, make sure it has some sort of platform for support; this is actually the KEY to successful pain-free walking! You are putting all of your weight on the ball of your foot (all one-hundred-mumble-mumble of it!). You owe it to your feet to help out, so show them some support!  Now, don't get me wrong, I have tons of shoes that don't have a real platform at the ball, but I do not go wearing them all day long, especially if I am walking around, exploring a new city. Which brings me to my second point: always carry a change of shoes with you. I get it, I want to wear my heels because, personally, they give me height and height for some reason gives me confidence, but I know when enough is enough. I've had way too many bloody blisters on my feet to not learn my lesson. With that said, I make sure to pack ballet flats with me (ladies, they even have the ones that fold so that they can slip right into your purse- no excuses)!  Now, if you forget them, then that's a different story :). But these barIII shoes were so comfortable, left my ballet flats at home – rebel, I know ;).
All in all, I was very happy with my Sandro dress (already have worn it twice!) and cannot wait to wear it again (because what good are clothes if you can't be versatile with them?), especially when they are more than what you usually invest in 😉
Thanks for following along! Leave a comment below, I would love to hear if this post helped you or if you have any similar stories/tips to share with me and other readers! 🙂 <3.
xx,
Loren.
Dress: Sandro Paris, unavailable, but see these that I have on my wishlist!: Rayan Dress, Rebbel Dress, Ricarda Dress, Rozo Dress (in red), Rozo Dress (in pink), Ryde Dress  |
Shoes: BarIII, unavailable, see inspired similar here and here