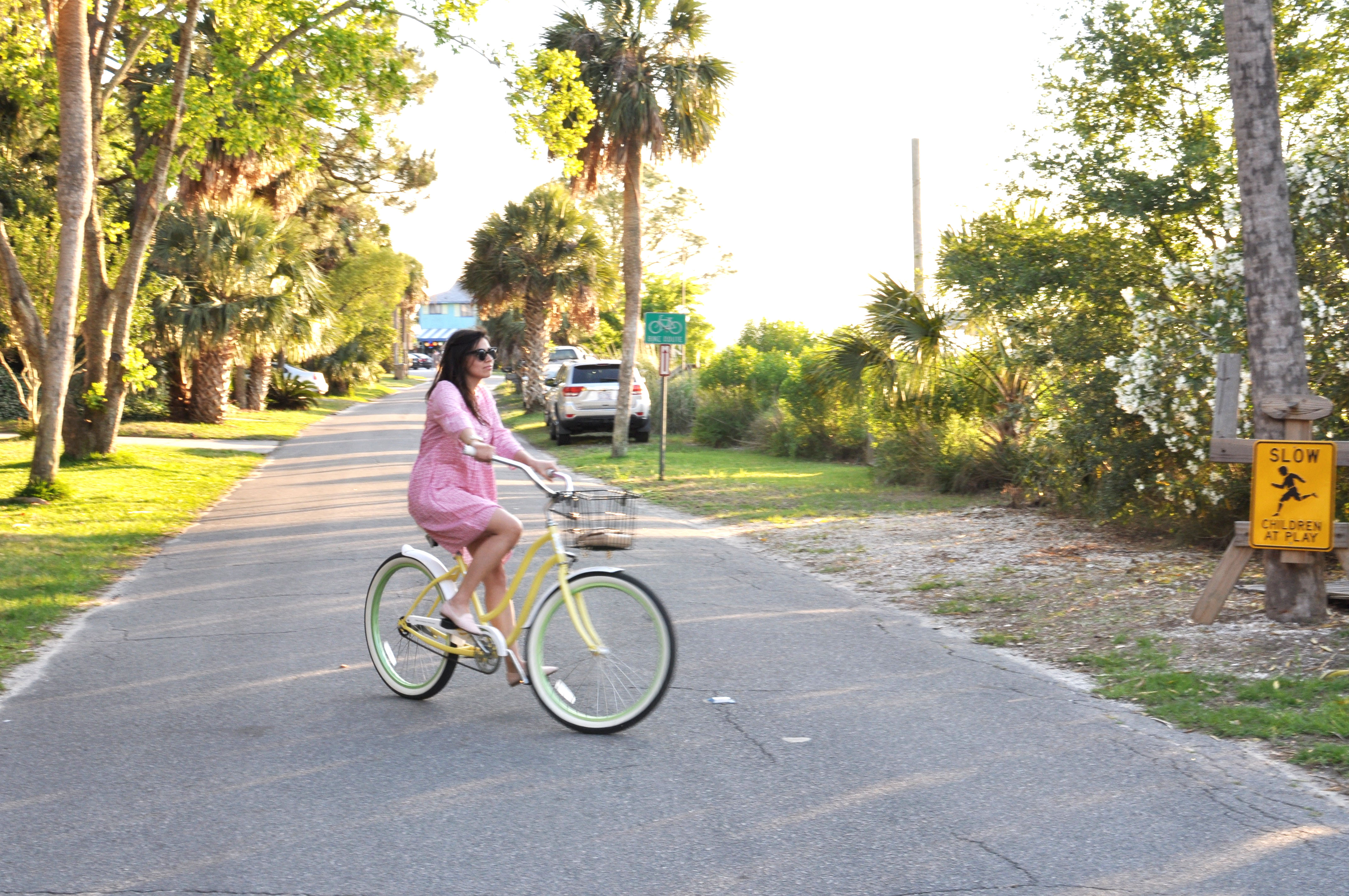 Looking for somewhere that has the appeal of Cape Cod for a fraction of the cost and encourages you to adopt a little bit of southern living?  Well, look no further than Tybee Island, Georgia, where the seafood is just-caught, homes are like something out of a pretty coloring book, and activities ranging from kayaking to crabbing are plentiful.  This hidden gem is becoming more widely discovered amongst many tourists, so plan your trip while you still have the edge ;).During my high school and early college summers, I would be flown down to Tybee to stay with a lovely, lovely family watching their kids.  Fast forward many years later and the memories that I had made still resonated deeply with me.  Needless to say, I always spoke about Tybee to my husband and when the opportunity arose to head on down for some rest and play, well, we jumped on it; I wanted to show him a beautiful little world that existed outside the northeast. Good thing, too, because apparently we missed a week of nothing but rain in NYC – phew!

We loved our stay in Tybee, especially because Savannah was just a 25-minute drive away. We loved that we had the option to engage in city-life as we saw fit and, well, coming from the city-life of NYC 24/7, we felt that this was exactly what we were looking for. Living in a bathing suit, throwing on some sunscreen, a pair of overalls and exploring more of the island was my favorite thing to do.






Not only is Tybee such a beautiful beach town filled with cute shops and miles of beaches, but it also holds a plentiful array of marine and bird wildlife. The main road even has signs of 'Turtles Crossing!' History is also big as Fort Pulaski (used during the Civil War) is open to the public for tours and holds a picnic ground where you can sit and have a wonderful lunch where history was made (as we did!). Let me not forget to mention that there is a moat with an actual alligator in it and a draw bridge! My princess dreams kind of came true there.



If you head on down to Tybee, I suggest you rent a bike as there is no better way to get around and explore the island.





Now on to the food. I have to say, I am so glad that I woke up early in the mornings to go for a run or bike ride because all of our meals were SO deliciously filled with love and butter! Locals were telling us where to go to get the best food (which we LOVED!) that I just want to share a few great spots with you!
For a little secret dining experience nestled in a mini strip mall, try the Sundae Café. Their almond + pistachio crusted chicken was beyond and my husband raved that their shrimp & grits was his favorite meal throughout our whole time in Georgia! Another great place to try that was recommended (and we, unfortunately, didn't have time for) was The Breakfast Club, where the chef actually assisted with the catering of JFK Jr.'s wedding! We will be back there next time, as I know there will be a next time ;).
For the freshest seafood that was just caught in the morning, The Crab Shack was a place that could not be beat. My husband and I had the Captain's Sampler Platter and, let me tell you, what. a. feast. We wanted to try the best of southern seafood all in one platter and we sure got it: boiled shrimp, crawfish, snow crab, jonah crab, mussels, potatoes, sausage and corn! Oh, and butter. Lots of butter.



If you want more of an upscale option, try Tybee Island Fish Camp. I have to say, I have had one of the best crab cakes there and my husband just could not get enough of his lobster, mushroom & shrimp risotto – YUM! The owner is from Kentucky and is not only known to bring delicious, seasonal food to his customers, but also some bluegrass entertainment! Take a seat outdoors under the string of lights for dinner, grab a glass of pinot grigio and toast to a wonderful night of pure happiness!




All in all, if we return back to the Savannah-area of Georgia, I would stay on Tybee Island again.  I live in NYC and I get that city-life all the time; it's just great when I can call the beach my home for a few days, but still have that option of driving into the city if I choose to go visit :). As I finish my post I leave you with one of my favorite memories: going to the Davis Produce stand, buying a pound of boiled peanuts, sitting on the beach eating them and watching the sun set over the water. It was my little piece of southern living that I was so happy I finally got to share with my husband.




Thanks for taking the journey with me! I'd love to hear your thoughts and if you've been in the comments below!
xx,
Loren.
look 1: | overalls: Old Navy, old, see similar here | tote: Nordstrom, BP |
look 2: | square silk scarf: Urban Outfitters, old, see similar here | top: W118 by Walter Baker, old, see inspired similar here | jeans: Zara | Shoes: Macy's, Keds |
look 3: | dress: Roberta Roller Rabbit, old, see inspired similar here | bag: Coach | shoes: old, see inspired similar here |