Brave Series: Exploring New Zealand's 'White Island'– an ACTIVE marine volcano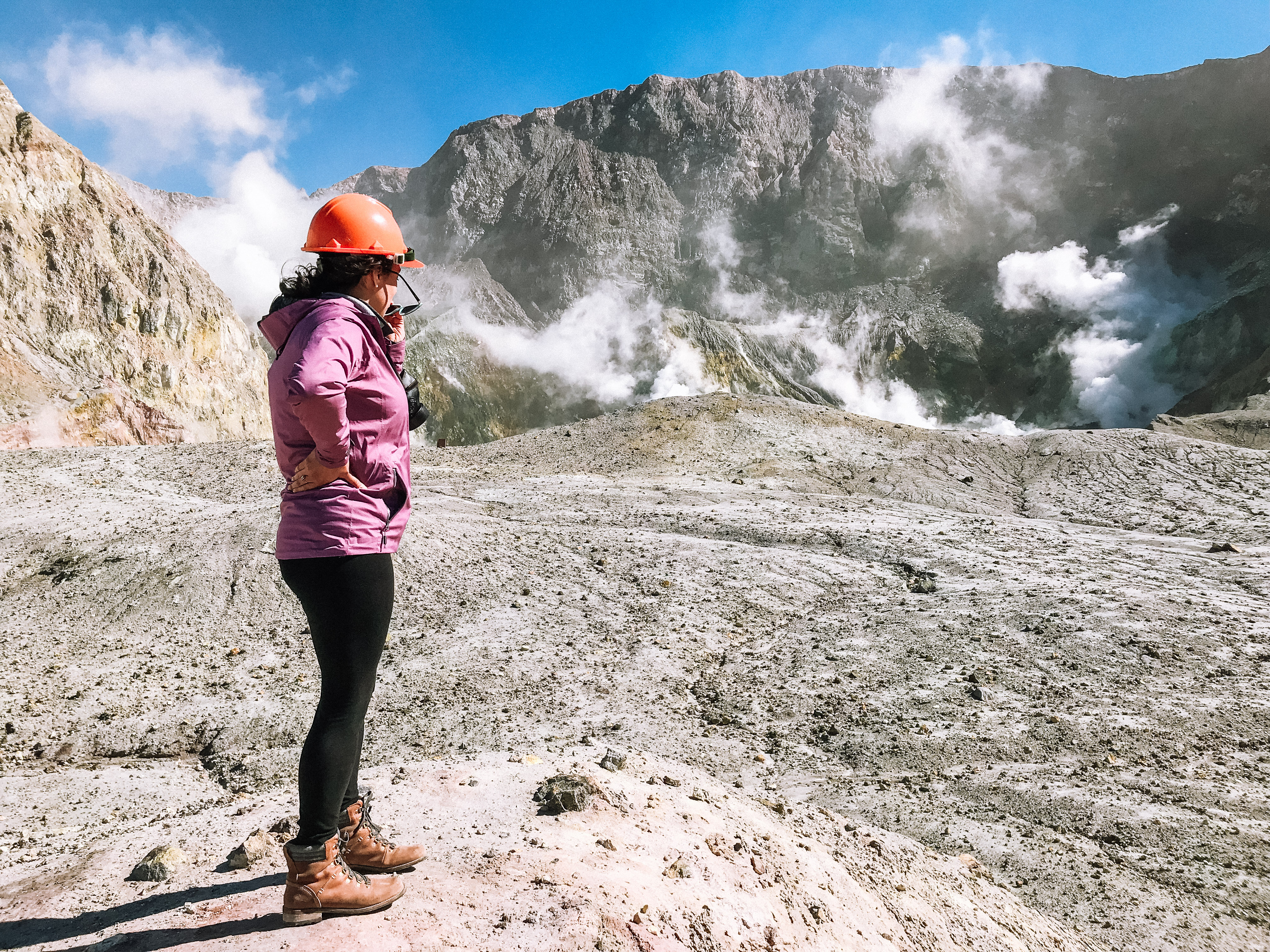 2020 Update: It is with sadness that I update this post to say that White Island tragically erupted in December of 2019. My heart goes out to all those affected by this. Tours are no longer happening, but I will leave up this post in memory of the experience.
According to Maori legend, White Island was formed when Maui first came in contact with fire, holding it in his hand, feeling the intense burn, diving deep into the sea and letting it go. What resulted was 'White Island,' New Zealand's active marine volcano.
James Cook first saw it in 1769, it last erupted in 2001, and it rises about 1600 meters from the seafloor.  As scary as it sounds, there are actually tours that take you out there for the opportunity to experience it yourself. In an effort to overcome fear and give in to my curiosity and intrigue, we booked a tour to the mighty, natural formation. That's right, we voluntarily went on an active volcano and into its inner crater– and it was cray.
I can honestly say that I'm not the same person I was when I last left New York City earlier this year, already. We all grow and development is natural, sure. But, I can tell you this: New Zealand has put my love of nature and understanding/intrigue natural disasters on a whole different different level.
Volcanoes are scary, yeah? Especially if they are active. But that fear inside of me, is a fire of its own, driven by a cloud of bravery that peeks over, dodging the flames and wanting to experience and understand more of the world's offerings.
We booked a trip with White Island Tours and I honestly couldn't sleep the two days beforehand; I was shaking in my bed sheets, worried that I was surely going to die.
I remember eating my last meal the night before: pad thai. And I remember putting on my shoes one last time that morning: hiking boots. Sure, it seems silly to some, but don't we all go through things like this?
We checked-in around 9am that morning and departed Whakatane on a boat; destination: White Island. We passed rivers, islands, marine wildlife and, 80 minutes later, we saw her. I turned for a quick photo, thinking: "Gosh, I'm okay with just cruising, do we really need to land?" Fear was present, but there was no turning back.
We were handed life vests, hard hats and a gas mask. Anchored just a few meters away from the volcano, we got into a little inflatable raft and landed on the beach.
It was like we landed on another planet. Rocks, rubble, gas. It was all there. And the risk of disaster? Well, I appreciate that our tour guide brought up the obvious point and said that in the case of an emergency, either if the volcano were to erupt or a landslide should occur, that we should run and seek shelter behind a rock formation on the other side. Ouf!!!
My mind just couldn't comprehend what was around me, what was happening. It was like an out-of-body experience. The only thing I knew, though, was that I was there. I was finally there.
With our tour guides leading the way, we safely walked on the volcano, avoiding 'soft spots' that were ready to burst should we have stepped on them and learned about all the minerals present: sulphur, iron, among others. We even learned about a mine that existed there and ceased its operation in the early 1900's for sulphur & gypsum (a mineral you'll find on the head of matches!), due to it being super hazardous, leading to an unfortunate event that took the lives of ten men and a few cats. One cat did, however, make it out alive and became somewhat famous in the nearby city after being rescued!
Our gas masks did come into play when we approached high levels of sulphur gases. When mixed with the saliva in your throat, it caused an irritation, causing you to cough. It dawned upon me, as my group all coughed together in a manner equal to that of an unsynchronized choir that we, as humans, are fragile. A natural gas can have this effect on us. It was honestly, pretty darn humbling.
As we approached the inner crater and saw the pool of super acidic water (a.k.a., where the eruption would occur), I wasn't so scared anymore. Being vis-à-vis to the thing that caused me so much grief the nights prior was humbling. I let my guards down. I experienced a sense of calm. It was actually pretty darn cool.
Our tour ended shortly after and I was so bummed! I secretly wanted more. We boarded our rafts back to the boat. They gave us a light lunch and we spotted whales on the way back to Whakatane.
I was so proud that I conquered a fear and decided to go on such an excursion that led me to understand and experience more of Earth's natural beauty; I would highly recommend the tour!!
I bought this Paua shell ring down in the South Island. Paua is native to New Zealand and it's beautiful. The shell's pattern in my ring below reminded me of a mountain. I feared mountains when I first arrived, but then I climbed a few. I also feared volcanoes, but I've now hiked on one and visited the inner crater of another. My ring will now represent mountains and volcanoes and the bravery to climb/visit them, head-on.
I love you, New Zealand.
xx,