Hiking at Harriman State Park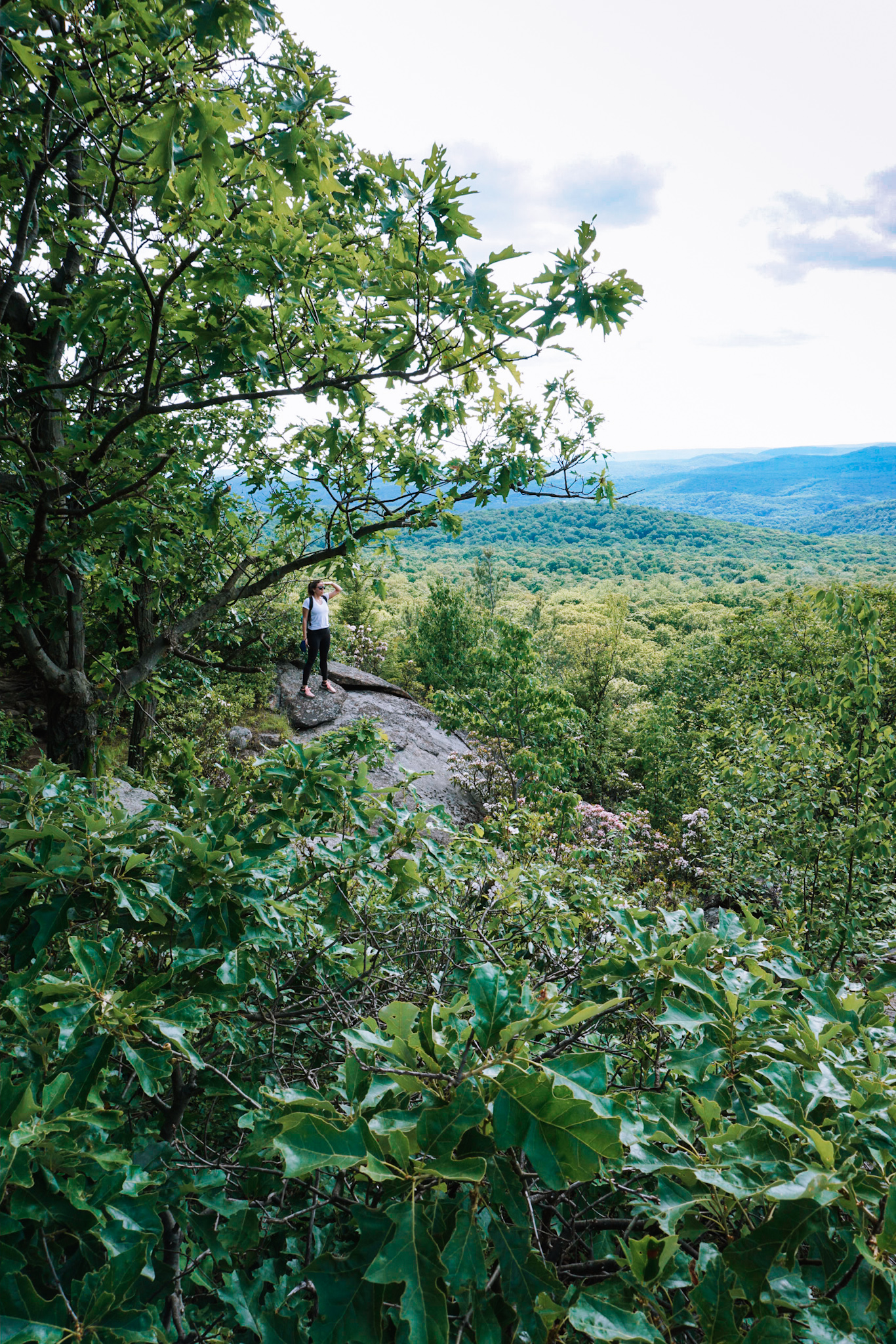 I cannot even begin to say how great it was to go out into nature for the first time in three months. Being confined in our apartment within the concrete jungle made me seriously long for the days where I would walk amongst beautiful, lucious trees and see everything in bloom again. And I'm glad that hiking at Harriman State Park served the exact medicine my body, mind and soul so desperately needed.
Though we aren't in a COVID-19-free world yet, we made sure to have the best time, all while staying safe. We packed some snacks from home, hand sanitizer, paper towels, water and, of course, our masks. We forgot to pack bug (mosquito + tick repellent), but highly suggest it as the weather warms up!
While I know that it is very difficult to go hiking with a mask on (especially in the heat), it was crucial to pick a place that had tons of space. We needed somewhere that allowed for us to hike without it on all the time and put it on when we saw someone approaching. Harriman State Park was perfect for just that.
A Quick FYI
Harriman State Park is located in New York State, right above the New York/New Jersey border. It's a great day-trip from NYC as it's about under an hour drive away (traffic-permitting). It's also the second largest state park in New York and boasts over 200 miles of hiking trails. Lakes, brooks, beaches and camp grounds live within it — what's not to love?! Interestingly enough, the park was a gift from the Harriman family in the early 1900s, who opposed building a prison and preferred to make it a public park instead.
While we often visited Bear Mountain State Park just next door, we could have sworn that we had been to Harriman State Park, but we learned that we never really did! It was funny, because as we started the on the trail, we had complete déjà vu. Funny enough, we were mixing it up with a hike we did in New Zealand. Which was GREAT, because the hikes over in NZ are fantabulous, so we felt REALLY good about this one.
Appropriate footwear is HIGHLY recommened. We went with sneakers because a lot of the hikes we have done in NY never really required hiking boots. But the route shared below proved us wrong. Perhaps it's a good idea to keep them in the car!
The Route We Took
We parked at the Reeves Meadow Information Center lot and started from there (note: center itself was closed). I didn't find this map until afterwards, but check it out (super helpful). The trails go by color and there are markers on the trees to help you stay along the path you want. Take a good look at the symbols of what "turn left" and "turn right" mean — they are blocks, but you'll get the hang of it very quickly. We kind of went into the whole thing blindly. Here's the route we took while hiking around Harriman State Park (I highlighted it in yellow below). 100% make sure you have a map on your person or your phone!
We started on the Pine Meadow Brook Trail (red trail) along the brook. It was relatively flat and a little rocky (so don't expect a paved-like-a-sidewalk smooth trail); we saw little kids on it, so not too hard :). Hearing the water as you walked, seeing flowers in bloom and hearing birds sing their songs were just beautiful. We walked just past a little bridge, but then retracted back just a little so we could hop onto another trail.
The Seven Hills Trail (blue trail) was what we transitioned to next. This was steep for a bit, as it brings you to a much higher elevation, so be prepared. It was beautiful, though; there were tons more beautiful white and pink flowers all the way up. Not to fear, the reward –beautiful panoramic views and cooler winds– at the top are worth it.
Since there aren't many trees up there, you need to be sure to pay attention to rocks on the ground that have the blue markers painted to help you stay on the path. Somtimes the most narrow paths are actually the path! The Seven Hills Trail (blue trail) continues with a slow descend and then it becomes very steep. Be extra careful and take your time if you choose to go this way. It's a bit of navigating both rocks and change in elevation.
After walking through some more forest, we transitioned to the Reeves Brook Trail (white trail) to take us back to the start of our hike on the red trail. The Reeves Brook Trail (white trail) was at a lower altitude, relatively flat, and set in the middle of tons of beautiful, lucious trees. This path looped us right back to beginning/parking lot. As we left the trail, we gave each other high tens! A job well done :).
All in all, the whole adventure (with stops and rests) took us about four hours. It was at a comfortable pace and exactly what we were looking for. If you suffer from really bad knee pain, maybe don't go on the blue trail. No worries, though, there are so many trails; there is something out there for everyone at all fitness levels! I love the AllTrails website, by the way. I am sure you will find one that matches the best to what you're looking for.
If you have any questions, please leave them below! I hope you get a chance to go hiking at Harriman State Park and make beautiful memories :).
Remember:
whatever you bring into the park, please bring back out with you (food wrappers, bottles, etc).
Leave no trace ✌️.
xx,