Transitional Outfit & Encouragement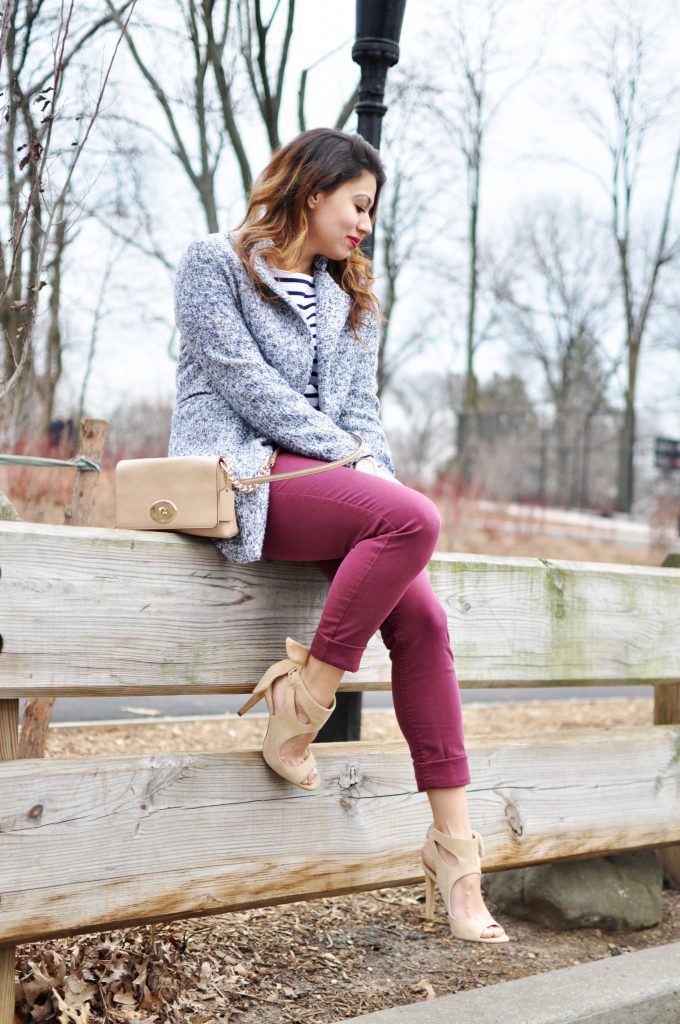 Ah, Spring is coming and I couldn't be more excited! I am especially thrilled for all of the pastels hitting the stores soon! However, I wanted to give this time of the year the respect it deserves with some transitional dressing. My husband and I had a brunch date in our neighborhood the other day and didn't have much planned for the day, except to enjoy a little bit of the down time that seems to be so rare these days.
I slipped on some deep-colored bottoms, but paired it with a striped pullover to add some geometrical dimension. I then topped it off with a marled coat that I've been obsessed with lately and then made sure to throw in a few neutral hits in there, too (shoes and bag!), to pull it together and lighten it up a little bit.
While transitional dressing can get a little tricky (and I don't think there is a secret recipe, really, for it) I do think that the most important things are to just (a) be comfortable (b) love the combo you picked out and (c) be ready to deal with your consequences! Like, if it rained, I knew I was going to be screwed. But that's where the weather app on my phone comes in handy ;).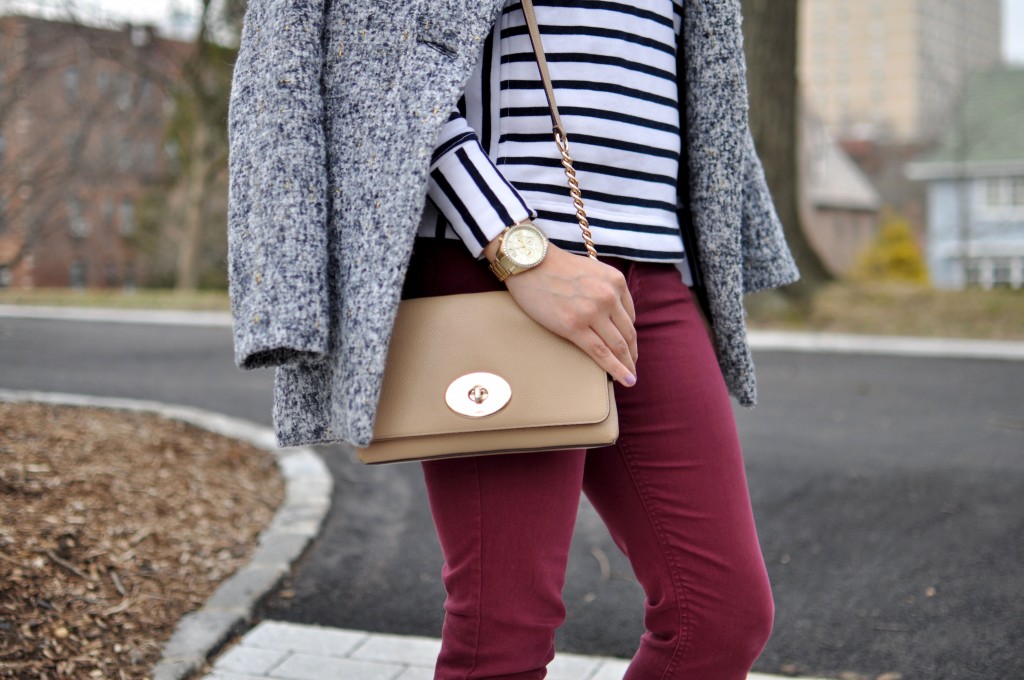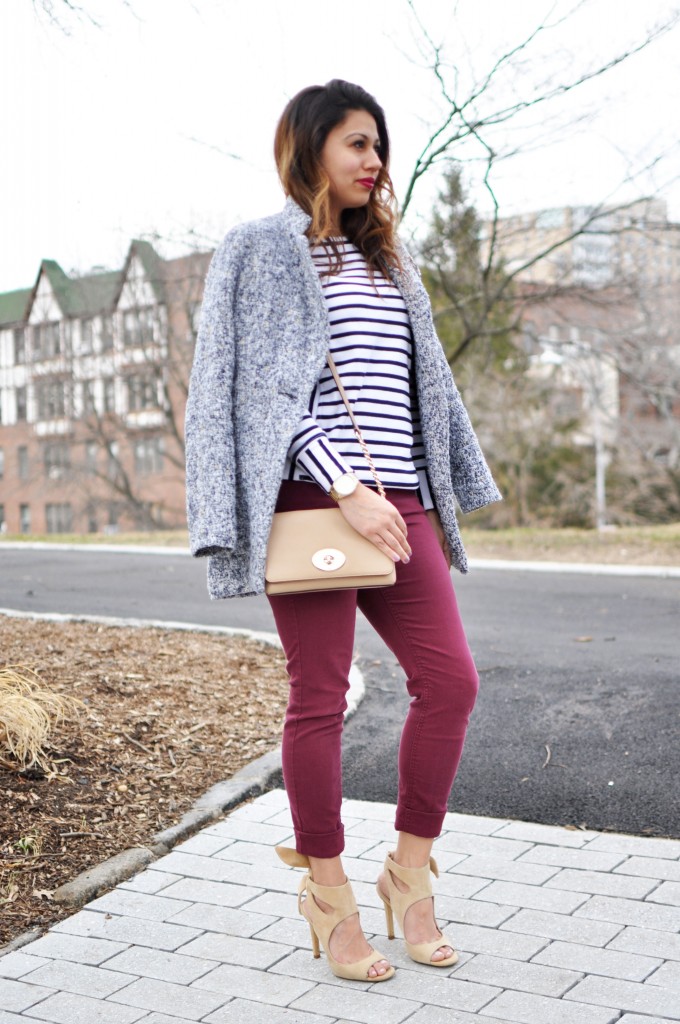 After our little brunch date, we found a little nearby park and just walked around and enjoyed the fabulous weather.
I reapplied one of my favorite lipsticks – which is actually a Sephora private label one – that matched back to my bottoms! I've been kind of obsessed with matching my lipstick to my clothes, lately… *hehe*.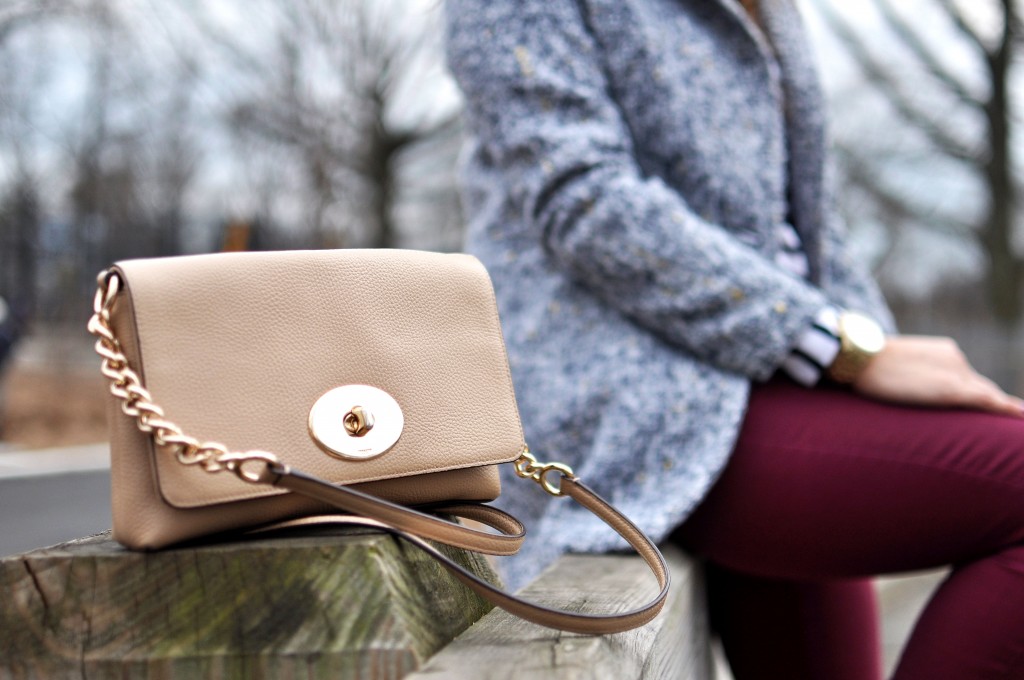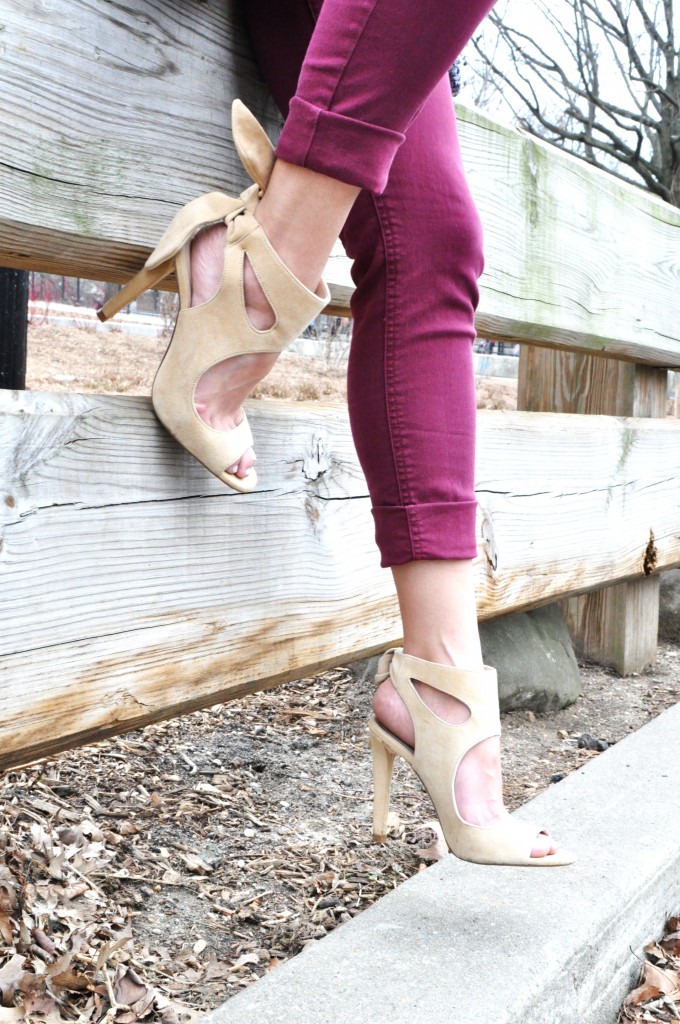 I honestly think that's probably one of the best things about dressing up and perhaps why I love it so much; I can play around with patterns and colors and experiment, all while expressing myself in a fun, creative way! There is just an infinite amount of possibilities and just years, upon years of play waiting to happen.
Fashion, to me, is whatever makes you feel your absolute best and fabulous. And if it's being in your PJs all day, 'erday, then that's cool. If it's spending four hours doing your makeup in front of the mirror, then that's cool, too. For me, it's pulling everything out of my closet, blasting music on as I get dressed in the morning and making my floor magically disappear by creating another layer on it made up of fabric (whoops).
Whatever it is that floats your boat, I invite you to not shy away from transitional dressing and just continue to play around with what makes you happy and maybe take it a little step further. Be brave and a little bold. And if it seems a little odd, then you're doing good! That's how we learn about ourselves. That's how we open ourselves up. That's how we grow.
I ask you take this outside of just clothes, too. Take it a step further and into different parts of your life. Be daring. Be transitional. Be bold. And, above all, be enlightened by bravery. Clothing is a tool for growth. And we have to wear clothes. So grow, grow, grow <3.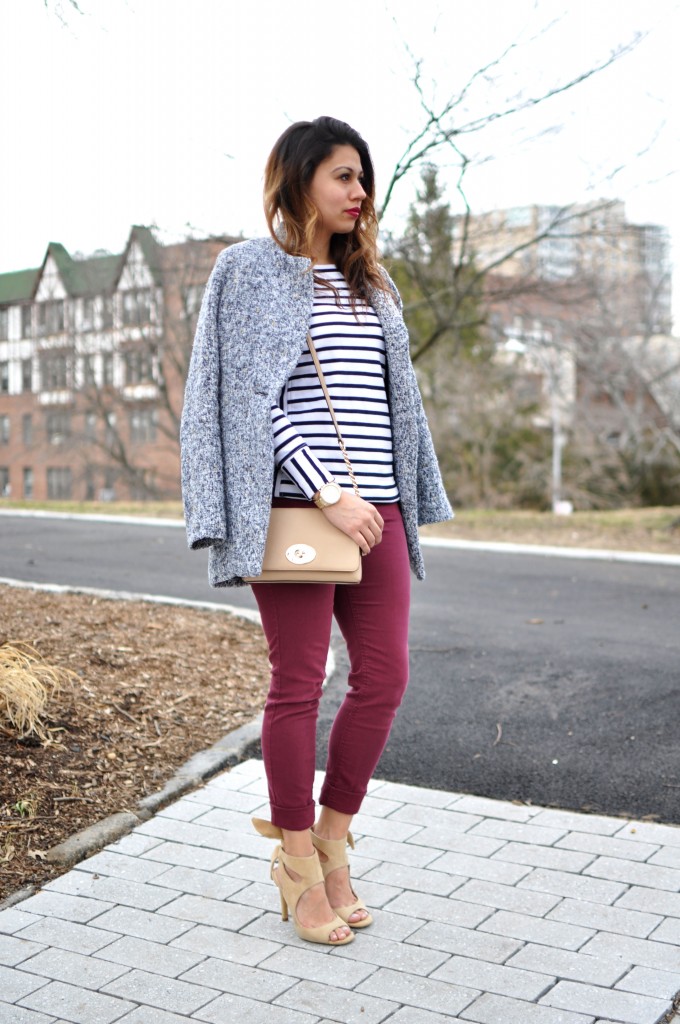 xx,
Loren.
Tweed Coat (Shein) / Tie-Back Nude Shoes (Zara, old), similar here and similar favorite here / Purse (Coach) / Pullover (Banana Republic), similar here / Bottoms (H&M), similar here and similar here