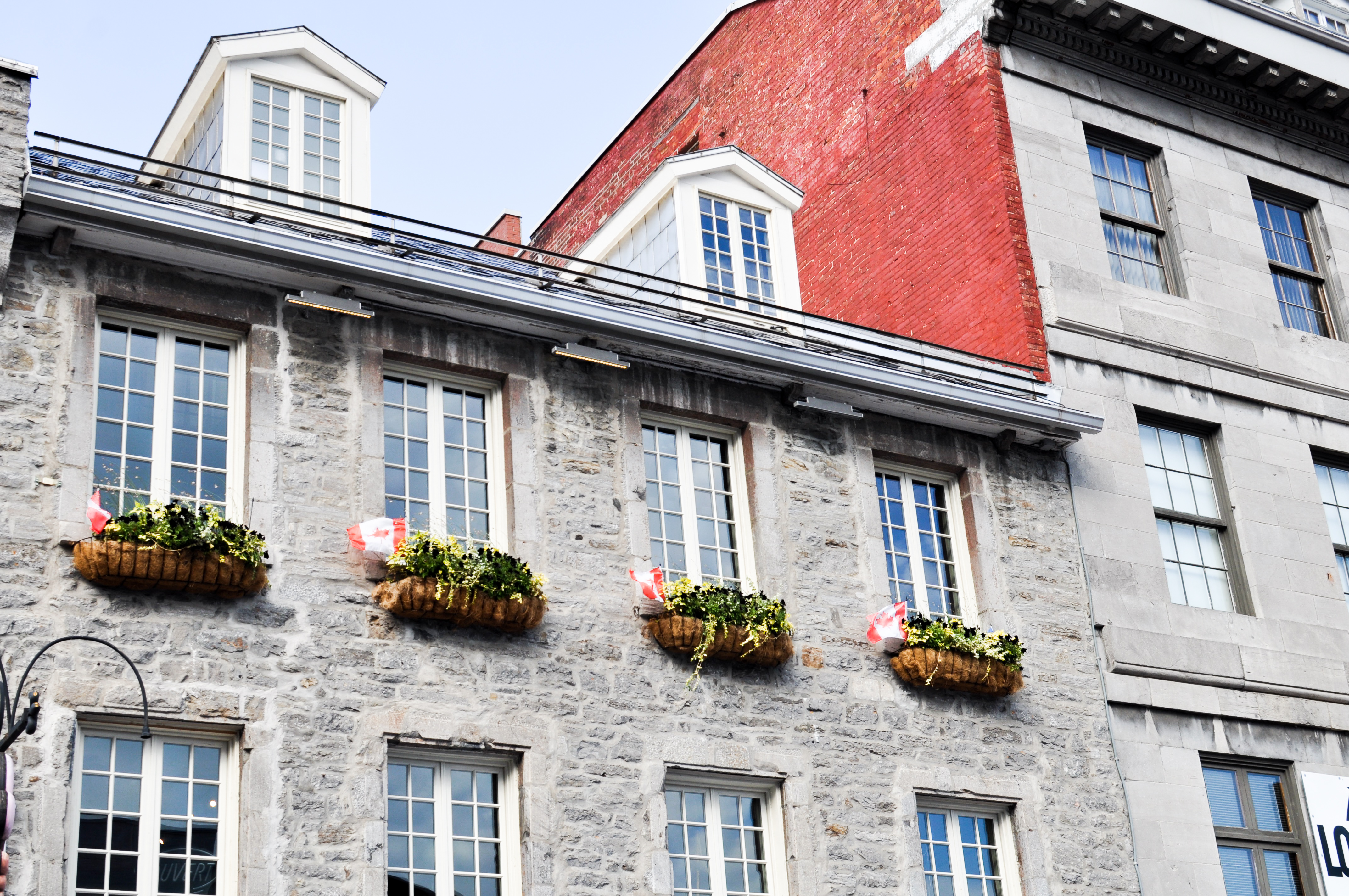 Before we left to Montreal, I did tons of research on places to go and things to do. On the top of my list? Old Montreal. What, with its old-world charm, I just knew that was going to be my crème de la crème. So I resisted going there until towards the end of my trip. And could I resist temptation? Of course not.
We started our day aboard a Grey Line hop-on-hop-off tour bus; these buses are one of my favorite ways to really get a glimpse of a city when you are short on time (plus, the local tour guide tells you so many tips, it's all golden!). Our ticket was good for two consecutive days, so that left our car at bay and more time for us to play! We passed through many beautiful stops. Montréal is such a rich city when it comes to the diversity of their neighbourhoods- and so well maintained!




As we made our way past Old Montréal, we saw a peek and, I swear, I never shrieked so loudly in a double-decker bus before! I turned my to my husband, Massimo, and was like, "No, we NEED to hop off!" So we hopped off.




I realized that we slept in and didn't have any breakfast, so the cutest little restaurant caught my eye (and my stomach's rumbling), Jardin Nelson. If I died and went to flower-restaurant heaven, this may be the place. They have LIVE jazz, the best oxygen (I mean, with all those plants, right?) and delicious food. I ordered their summer vegetable omelette, sprinkled with goat cheese, and my fav, a mimosa. All super delicious and such a cute brunch spot!






After brunch, we proceeded to walk around Old Montreal, exploring every nook we could. The streets were filled with cobblestones and the amount of cute art galleries, souvenir shops and restaurants/cafés were just unreal. Street performers graced the rues with their music and the joie de vivre was all too-well alive as we walked down the streets. I was so obsessed with the European architecture that I had goosebumps at one point because I truly felt like I was transported back hundreds of years ago.






When I was packing for this trip (if you can you believe it), I didn't pack a single pair of heels! Not any pumps, not any wedges! I knew that I was going to be walking around a lot and that most of my time was going to be in the streets, so I packed just a few pairs of flats to match back to my outfits. One of my favorites were these pink J. Crew ones that, to me, stand almost as a neutral! But my dress? That I had planned. I found it at Anthropologie a month or so back and I instantly fell in love with it due to its flowiness and its off-the-shoulder cut. While walking around Old Montréal, I felt so free and just happy! (One of the reasons why I love clothing: because you start to embody its expression into your life!)





One of the best snacks we had (that offered a good view of Old Montréal as well) was at the Hotel Nelligan. Up on their terrace you can order food, have a few drinks, and take in the wonderful sun. How can we go to Montreal and not have poutine? We'll have one of those, please, waiter. And some crunchy fish tacos, too. Oh, and how can I forget (because I can't), it also offered a peek-a-boo view of the Notre-Dame Basilica. Upon its completion back in 1830 it was the largest church in North America. It's also where Celine Dion was married. You bet your bottom dollar I made sure to walk those same steps as Madame Dion did!!







After a full day of roaming around the streets of Old Montreal, we decided to head back to Le Quartier des Spectacles where our hotel was for some festivities. If you don't already know, Montréal loves to celebrate and they hold quite the amount of festivals. Planning a trip? I suggest taking a peek to see what's going on while you're in town! For us, it was the celebration of Mode & Design, kind of like a Fashion's Night Out where designers and brands hold events throughout the city, celebrating, well, fashion and design! It was so fitting for us to be there because I love fashion and to see how Canada celebrates it (and what's trending over there) just wonderful. Hint for fall: faux fur!


xx,
Loren.

Anthropologie