Seeing Montreal from Up High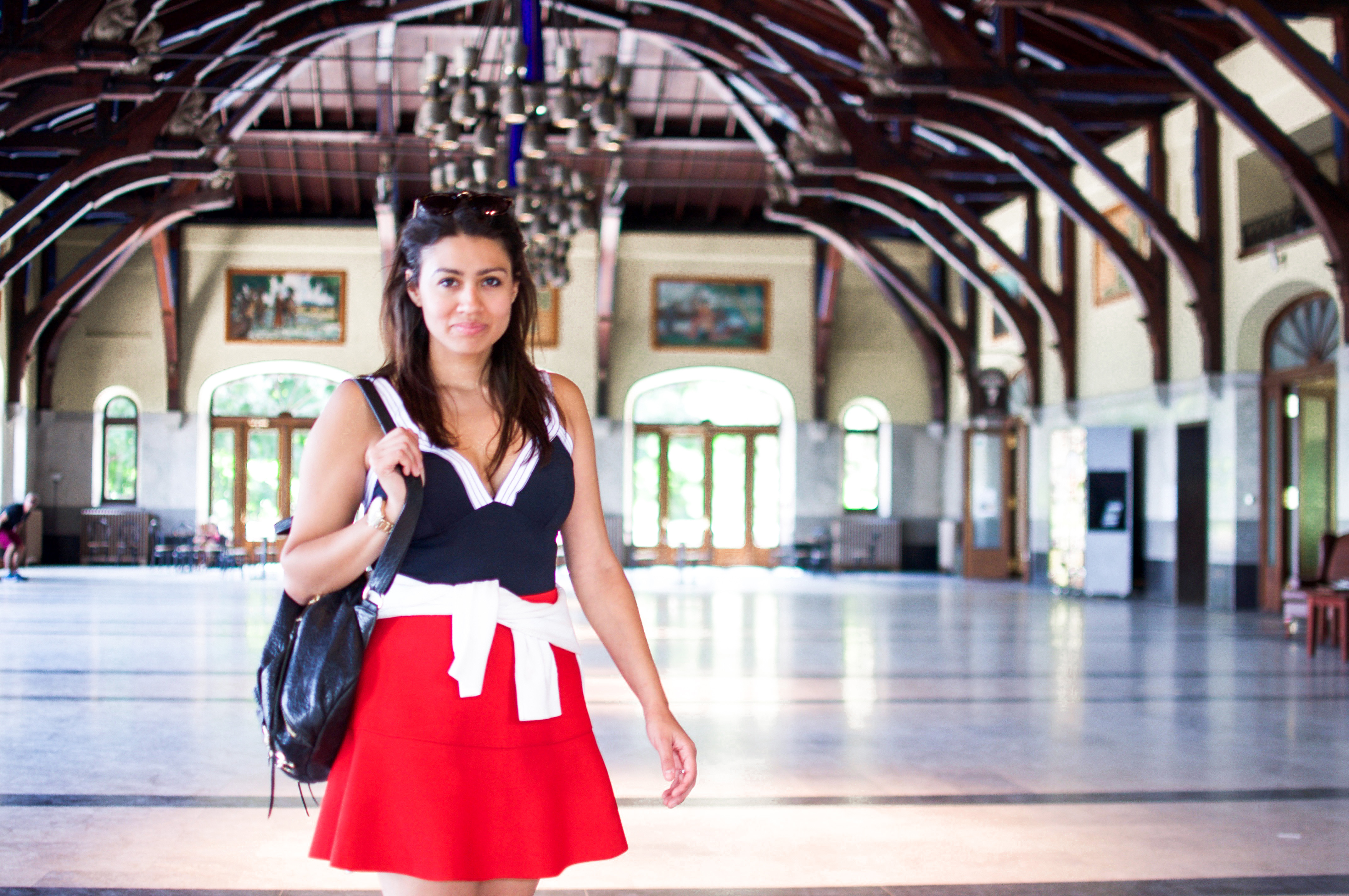 Exploring a city and wearing something that can take me from one activity to the next, seamlessly, is always a plus. I took on the challenge of wearing a bodysuit that is newly being deemed as leisurée, athleisure-meets-lingerie, and let it follow me from one adventure to the other as we continued to roam around Montreal. And you know what? It definitely kept up- from café to pool and everything inbetween.
We started with a very simple breakfast near our hotel, Café Parvis, that consisted of a pain au chocolat and decaf coffee with almond milk. I have to say, the cafés here really know how to make almond milk super creamy and delicious.  I've also noticed that many of the places we've been going to had natural plants as décor- my favorite kind of places! Café Parvis also offers lunch, dinner and brunch on the weekends with a very appetizing menu.

After our petit déjeuner, we went off to our first stop: St. Joseph's Oratory. Story has it that so many miracles (that science couldn't explain) occurred at this basilica that prior popes deemed it miraculous and finally canonized a priest there as a saint in 2010 for all of his work. Millions of visitors (from all kinds of religious denominations) flock to visit yearly. Also, worth a mention: pilgrimages to this church are common and there is a staircase in the middle that is reserved for those who wish to climb the steps on their knees! After a total of almost 300 steps, you get to the top and there sits Canada's largest church. It was much more modern than we thought it would have been, but very beautiful, nonetheless.
The view from the top was nice- no big skyscrapers to obstruct your view gave way to seeing miles and miles off into the distance, but I knew we could go higher. So off to Mont Royal we went.
Mont Royal park is filled with hiking trails, spots to plop down and have picnics, and even has a man-made lake (Lac Aux Castors, (or Beaver Lake)) that allows you to enjoy water activities on it or just appreciate it from the side.
I wanted to do a little bit of a fitness activity to burn off that croissant I was too naughty about and had earlier in the morning, so hiking a little ways up we went. Sure I was in a skirt, but when has that ever truly stopped me from living? I also was wearing an unbelievably soft Lively bodysuit that was completely fun to wear and made me feel so powerful as I embodied its message: to empower and remind women to do what they love, no matter what age, race and size and feel beautiful and strong while doing it (obviously something I can get behind!). Lively sees what the media defines as 'sexy' and is a total celebration of redefining what sexy means (re: whatever you want it to mean!). 
It's interesting, what you wear, you start to embody – one of my favorite reasons to love clothing. So as I was hiking up the mountain, I felt the confidence and the determination, realizing how my every step was part of a whole. After about a half-hour or so, we finally made it to the top of Mont Royal!
The view from the top was breathtaking. Seeing cities from up-high is one of my favorites because it's somewhat humbling to say "wow, I'm just a little person in this big, big beautiful world." Something else to note: there was a piano at the top that anyone could go up to and play. Montreal places a handful of public pianos around the city so anyone can come up to them and play. I mean, really?! Pulling at my heartstrings here, Montreal. <3.
After climbing up to get great views of the city, we decided to head back to the hotel and indulge in some aquatherapy, a.k.a R&R at the pool. The best part? I used my bodysuit to get in there! Lively's mission is also to start a new revolution as part of their leisurée collection by blurring the lines between lingerie, active and swim. What I'm wearing just launched as part of their new collection and I have to say it again: it is just so incredibly soft; if it weren't for the fact that it was wet from the pool, I would have slept in it, too!
xx,
Loren.
Special thanks to Lively for partnering with me on this post; all opinions are my own.
| Skirt: Zara | Sweater: Banana Republic, see similar here | Shoes: Ked's |
| Bodysuit (Medium): Lively, c/o (USE 'LOREN' AT CHECKOUT FOR $10 OFF YOUR ORDER (only valid until Sept. 9th!)) |