Two New Zealand Star Experiences That Drove My Love For Astronomy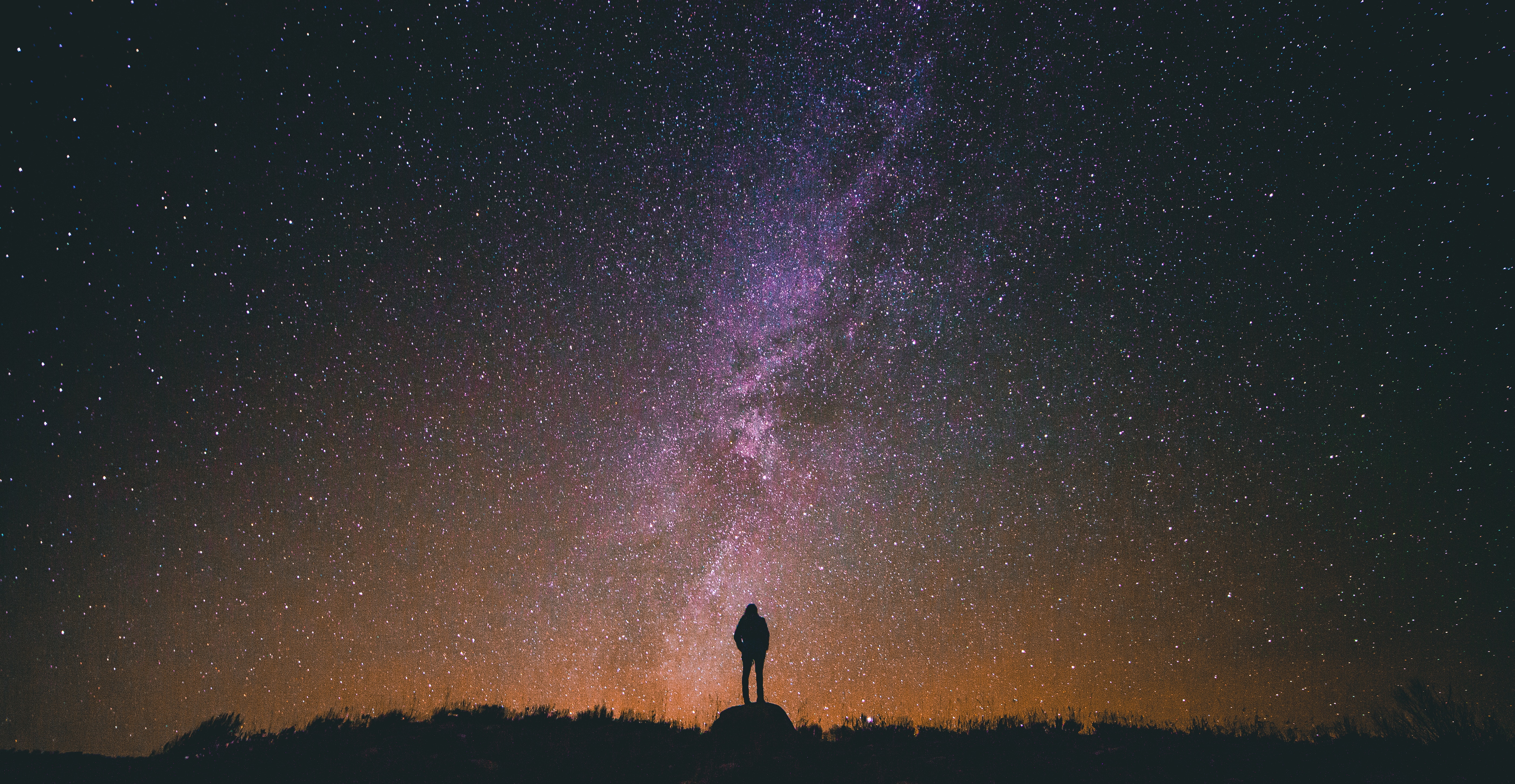 Bright. Plentiful. Stars are just everywhere. Unfortunately, growing up in New York City meant that I really didn't get to see all the stars that exist in our night sky. The highest I ever counted was about nine from my dining room window, though I am pretty sure that five of those 'stars' were actually airplanes because stars don't usually blink red and white right near John F. Kennedy Airport, right? No, no they don't.
Living in New Zealand, though, that number went from "nine" to nine-hundred (and quite possibly to nine-thousand) fairly quickly. I felt comfortable with the first one hundred, but the more they appeared at night, the more scared I started to become. I had, what you would call "astraphobia," the fear of stars and space. And the feeling was real. It was like I was a cavewoman and someone lit a torch in front of me for the first time. You can't process it. You feel threatened. You feel like you don't know what to believe. Camping in the middle of farmlands and mountains and being surrounded by pitch dark and little lights in the sky was just scary.
So what did I do? I ignored them. I prayed to the heavens above for super cloudy days and urged my husband to park under a tree or something so I wouldn't see them. Basically, I tried to not see them for months. I pushed my feelings to the side and continued onward. Suppression was working.
After three months of traveling around, we found ourselves camping overnight at Lake Pukaki in the South Island. And that's when I had to face the music. And then some. I was making dinner inside the campervan when my husband called my name in a frantic, excited holler from outside: "Loren! You, MUST SEE THIS!"
I knew that he was looking at the sky. But there was a part of me that really wanted to see what all the fuss was about. So I put my spatula down and slowly crept of out of the van to join him outside. He had a warm smile on his face and, with his index finger, pointed up to the night sky. Staring at him, I shook my head "no." I didn't want to see anything; yet, part of me did want to see something. I needed to at least peek. So I clenched my hands over his, took a quick gulp, and slowly gazed my eyes up towards the sky.
And there they were. THOUSANDS of STARS. If not millions.
I freaked out.
I felt absolutely small.
WAIT, is THAT THE MILKY WAY?!
Who am I?
What is life?
I cannot.
I quickly pulled myself away and ran inside the van to cry. It wasn't necessarily the stars I was crying about this time, but more so the beauty of the night sky. WOW!! The beauty was overwhelming. But then it suddenly made sense: all this time I was avoiding them because, for the first time in my life, I felt outnumbered; it was a feeling I didn't think was possible to have, let alone brought on by nature.
My hands were shaking, but it was such a beautiful sight that I knew I had to go back out there and accept that I was just this small human on this big, beautiful earth and that we are just floating around in this universe.
That night, I didn't leave the van, but instead let all the feelings come. I journaled while my husband fell fast asleep. The enormity and beauty left me curious. Now or never. So I opened our window, slipped up on the windowsill and spent the night looking up, becoming friends with the stars.
Twinkling. Plentiful. Bright.
I was never going to be bigger than them. Their presence was overwhelming, but being overwhelmed is a temporary feeling. This was a sign from the universe to learn more. The stars were trying to show me more.
So I went seeking more.
1) Tekapo Stargazing and Hot Pools

location: Tekapo, South Island, New Zealand
While down in the south island, I found out two things: (1) we were in the Mackenzie Region, near Tekapo, which is part of the Aoraki Mackenzie International Dark Sky Reserve and (2) there are only eight Dark Sky Reserves in the world and this one just so happens to be the most southern, darkest place on the globe. Crazy!
We researched a bit and came across the Tekapo Star Gazing experience. I was falling more and more in love with the stars every night– they were fascinating to me now!– so, naturally, we booked the tour and my goodness what an awesome time!
You start off by boarding a courtesy van late in the evening (the darker the better!) and they take you to Tekapo Springs. Once you're off, some hot cocoa/tea is there to warm you up before you head outside to the main deck. Your guides point to the stars above you with a laser (it's pretty cool that it reaches infinity!) and explain to you the constellations they are a part of. With our own naked eye we were able to see: the milky way, another galaxy (yeah, seriously), venus, jupiter and thousands upon thousands of stars.
My little heart was just so full!
If that wasn't enough, there were two telescopes that we were able to use! We saw Jupiter up close and its moons, as well as that other galaxy up close– apparently you can only see it from the southern hemisphere. *swoon*
After our tour of the stars outside on deck, we all went into the changing rooms to put on our bathing suits (togs) and entered a 38ºC (100.4ºF) hot pool. Floating beds were handed to us and, as we laid on them, staring up to the night sky, our guides told us stories of constellations, Maori legends, and answered any questions we had about astronomy.
I didn't want the evening to end. It was peaceful, magical and it was unlike anything I've ever seen elsewhere in my travels before!
travel tip: make sure to look at the weather. Stargazing is best when the night is clear (not many clouds) and the moon isn't visible (less light). I love Accuweather's 'Astronomy' predictor for this!
2) Sir Edmund Hillary Alpine Center
location: Mt. Cook, South Island, New Zealand
Don't know if you know, but Sir Edmund Hillary was from New Zealand and, with Nepalese mountaineer, Tenzing Norgay, they were the first men to climb Mount Everest– ever!
This alpine center is actually located right next to Mt. Cook, the mountain that Sir Edmund Hillary trained on for many years, in order to build up his mountaineering skills and stamina to take on Everest!
Part of the Hermitage Hotel, the Alpine Center is "the world's only theatre with 2D, 3D and a Digital Dome Planetarium, contained within the same space." What I fell in love with, though, was their 360º Digital Dome Planetarium. You pay about $20 and you have unlimited entrance to the shows they play in the theatre all day! From the big bang, black holes, to what we are doing today to continue learning more about the stars and planets in our skies, you will learn so much in a fun, educational way. Your entrance ticket also allows you to watch various 2D documentaries, along with a 3D short film giving you the inside scoop of Mount Cook. The best part? When you come out, you are in the mountains and, if you wanted to go hike into the Mt. Cook area you just learned about, the Hooker Valley Track is a beautiful way to bring everything into reality.
I learned so much that day and kept all of the fun facts in mind as we kept traveling through the beautiful night skies of the South Island.
travel tip: make a day out of it! get to the theatre in the morning when it opens, start watching presentations for a few hours, treat yourself to a buffet lunch in the hotel, then go out trekking into the Hooker Valley Track for a view of Mt. Cook!
These experiences have definitely made me much more interested in astronomy and have given me my next little fun thing to learn: how to shoot night sky photography. The world is absolutely beautiful and I learned, yet again, that embracing those curious matters in our minds leads to fascinating observations, discoveries, and, well, new loves.
Astronomy, continue teaching me your ways <3.
xx,