Making Colonial 'Cool' in Philadelphia: Our Weekend-Themed Itinerary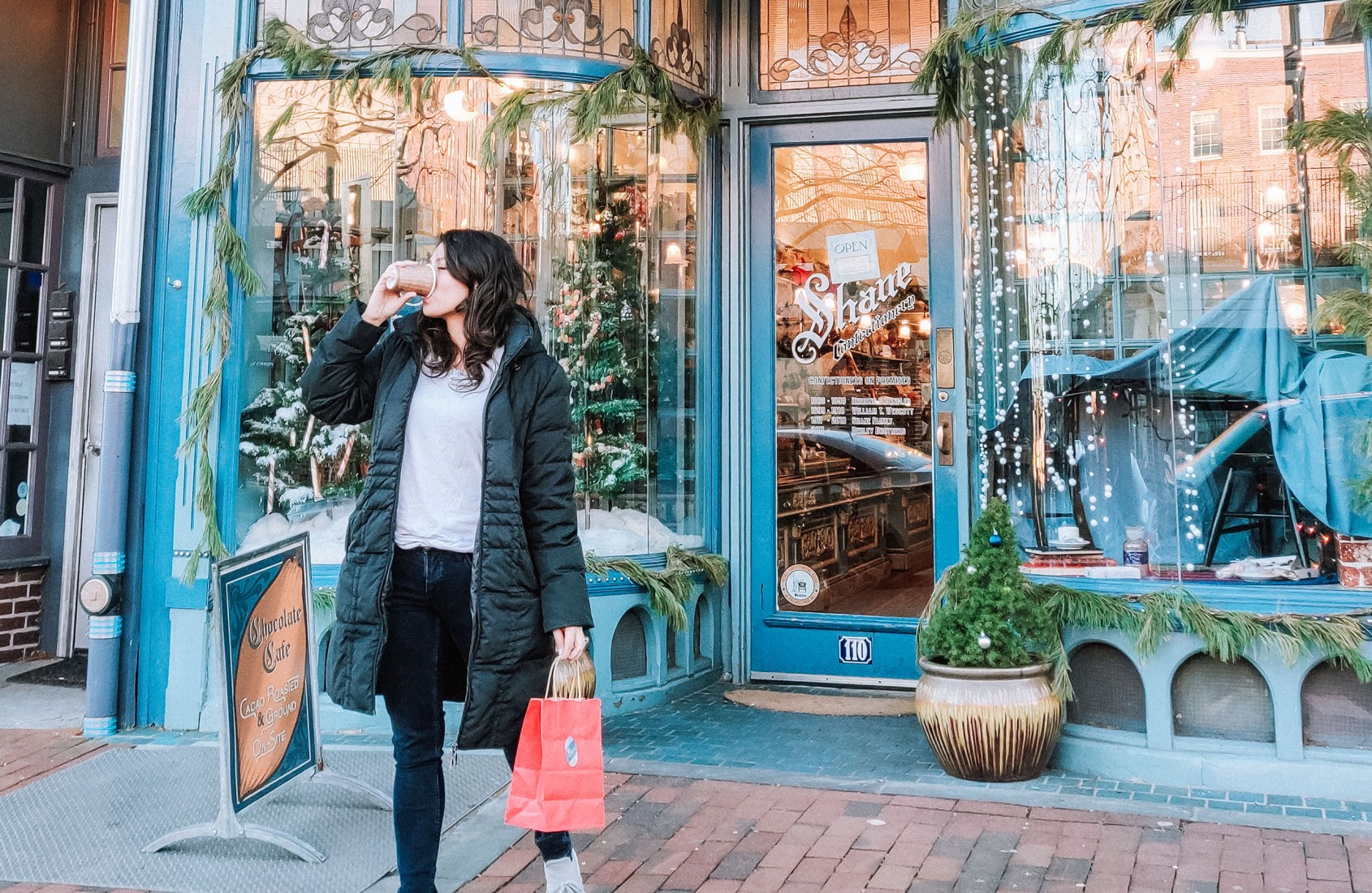 Who doesn't love themes?! After tons of research (and to surprise my husband with a pretty unique birthday weekend), I came up with a little fun way to explore Philly and entitled the weekend: our "Colonial 'Cool' Weekend." I know, you must be like "Loren, what does that even mean?" Basically, it's all about letting the 18th century influence our present-day activities; think about what people back then would be doing/using/watching and find an equivalent to now! While cozying up to a fireplace is great, is there a fun way to experience a fire that outdoors? And with music?
Come, let me whisk you away to the itinerary!
Day One:
After driving in from NYC to Philly (an easy 2-hour car ride), we parked our car into a garage (using the SpotHero app, where we saved $$$ off our first booking and, well, let's say this app gave us such a steal! Have you guys ever tried it? It was our first time!); it was seamless and we were off to our hotel– the Sofitel Philadelphia– in no time. Although the hotel offered valet parking, we really didn't need the in-and-out privileges! Hey, save money where you can, right? 😉 The Sofitel Philadelphia is part of a French chain and is located in the city center— perfect if you're going to be doing more of the history stuff around town (book using this referral code to get $25 back after your stay!)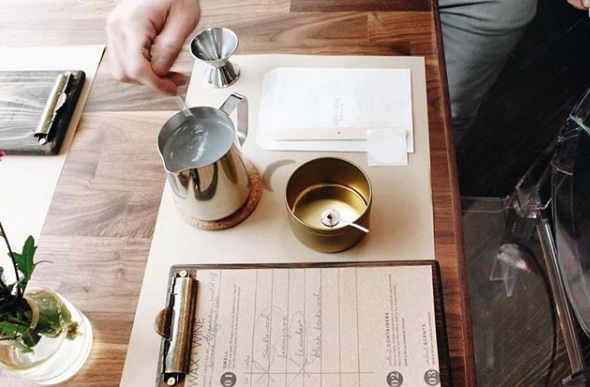 Let there be light!
Create your own candle @ Wax + Wine
image from wax + wine Instagram
The founding fathers (before Franklin's lightbulb) relied on candles for light, so why not make your own?! An alternative to the sip + paints we've been seeing around the country, Wax + Wine delivers a different (and pretty cool) experience to Philly: candle making! It's a BYOB bar that'll let you bring in your favorite bottle of vino (or champs) (and snacks!) and they'll provide you with glasses and plates.

You then descend down to the "scent cellar" where you get to select your favorite scents (ex: lemongrass, rose, blood orange, coffee) and bring it up to create your own candle! They will help you through the whole process and you walk away with a one-of-a-kind! Perfect activity for a date or girl's night out. Get creative: want a candle for meditating? For dancing? For when you're taking a warm bath? Go wild!
---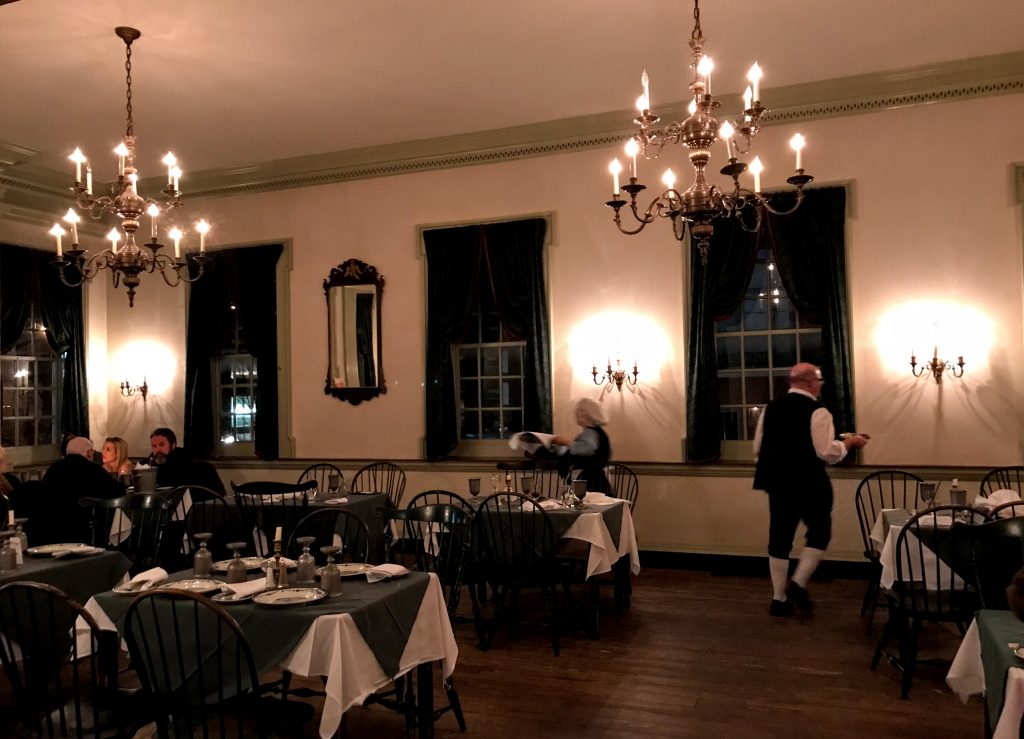 Dine with the ghosts of our Founding Fathers @ City Tavern
So, while the ghosts are "rumored" to be there (I didn't see any), there is no denying the fact that this tavern is pretty historic! It is the first tavern ever in the USA [read: old] and the one where George Washington, Thomas Jefferson and John Adams would come to discuss constitutional affairs and have their fill! It's also the place our founding fathers celebrated the first ever "Fourth of July."
The food at City Tavern is gourmet colonial, inspired by the same food eaten in the 18th century and recipes of that era that were the favorites of some of our past presidents! I actually ordered for a birthday cake to be made using Martha Washington's Chocolate Mousse Cake recipe and, let me just say, de-li-cious!
Your host/ess and waiters are dressed in colonial garb, you'll dine under candlelight, drink water from goblets and, after 5:30pm, find a live harpist sending melodies into the air, completing the dining experience.
---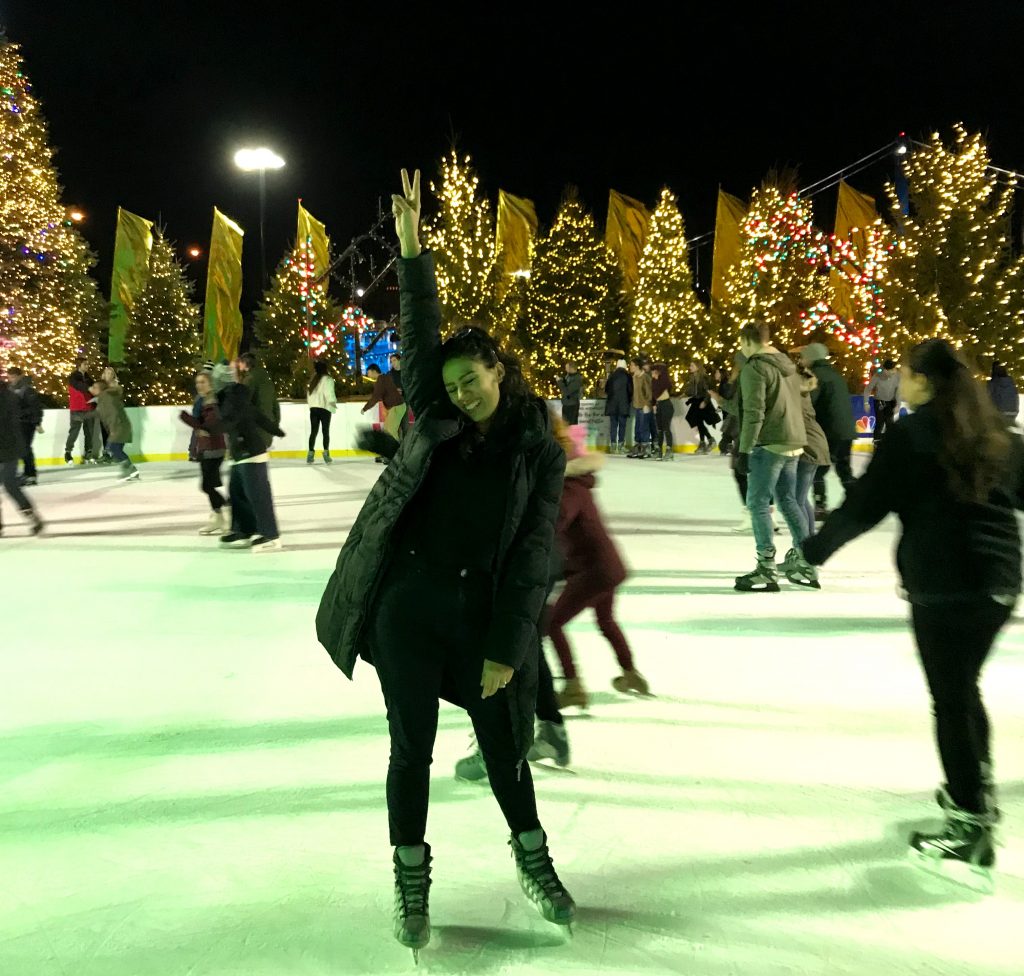 They had ice skating back in the day, so why not enjoy some of that present day, too? From December to March, you get the chance to ice skate next to the Delaware River with the Ben Franklin Bridge lit up behind you, all in the middle of Philadelphia's Blue Cross WinterFest! Sessions start on the hour (and if you have health insurance with any sort of a cross on it, skating is free! (I wish I knew that beforehand as you'll have to show proof!)).

After your 1.5 hour skating sesh, head on into the food hall for some grub, play your luck at one of the arcade games in the arcade cabin, or head outside to sit next to a bonfire! They have make-your-own s'mores available, as well as hot chocolates/ice creams (and drinks for the adults at the ski-chalet cabins ;)). The WinterFest lasts until March, making it a fun evening activity during the winter!
---
Day Two: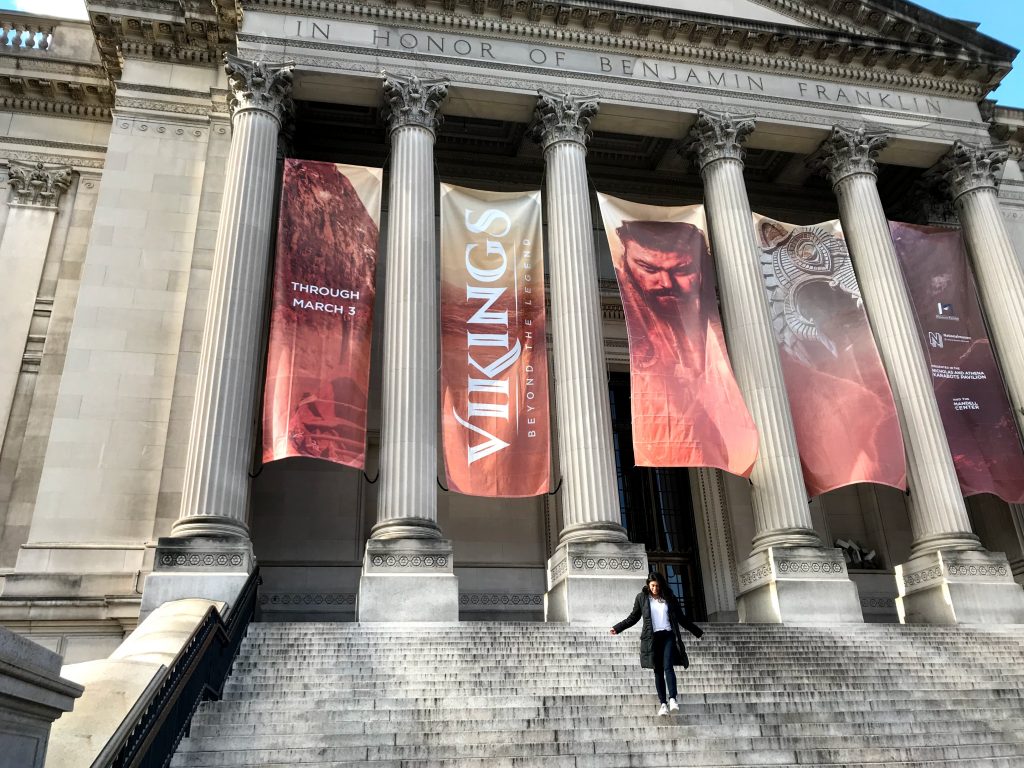 After a wonderful night's rest, head on over to Philly-born La Colombe for some pour over coffee and a baked good (word on the street is that their coffee is taking the nation by storm!). Have your drink to stay (the tables and coffee cups & saucers are so elegant (I mean, they are custom made in Italy ;)) or take it to go! A 15-minute walk will get your blood circulating as you make it to The Franklin Institute. "In Honor of Benjamin Franklin" stares at you as you walk up the steps into the museum, where you'll actually be stared down by Ben himself as you make your way to the ticket desk.

Walk into a human heart, compete against your favorite athlete in a running challenge, catch what the 3D printers are printing, step into a giant steam engine locomotive or catch an IMAX movie, whatever you're doing, it'll be sure to be interactive and you'll walk away learning something new!

PS: I'd give yourself three hours to see everything, not rushing.
PPS: We saw a Paleontologist take apart owl poo and rebuild a rodent's body. yeah, cool!
---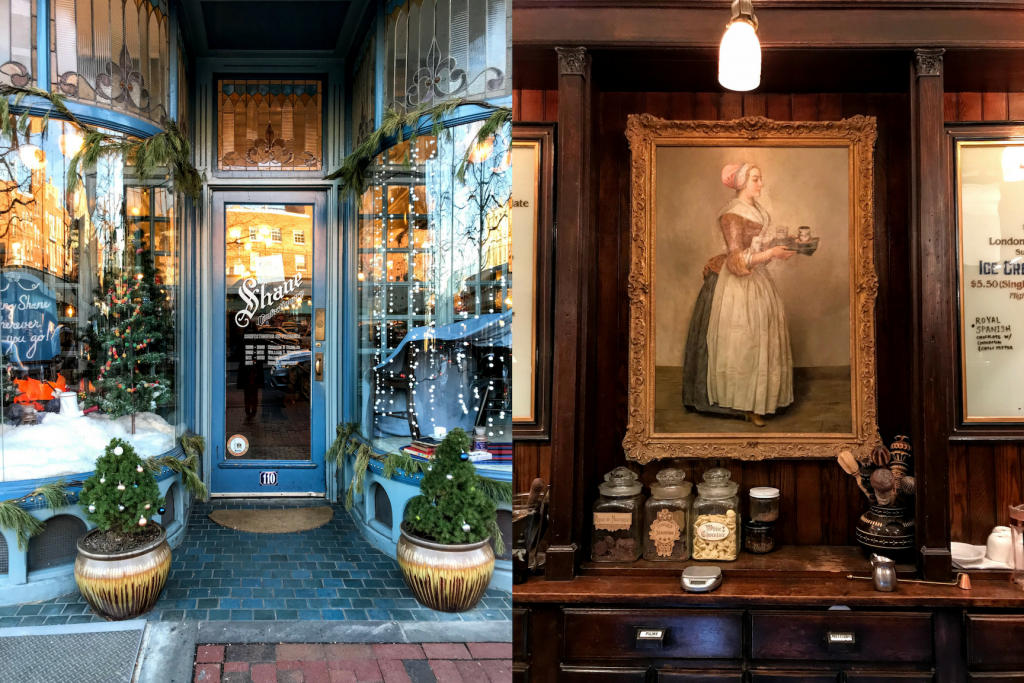 Shane Confectionery is the oldest candy store in the USA and holds some of the yummiest chocolates and candy inside! One step in through the door you feel like you're instantly transported back in time with the moldings/glass cases properly preserved and the shopkeepers dressed in colonial garb.

Head to the back of the candy shop where you'll find hot chocolate, ice cream and milkshakes being made to order. The flavours on the menu are very unique and insanely delicious! We picked up a Jasmine petal and orange zest hot chocolate and all I can say is.. YUM! Our chocolate pellets were weighed, added into a beautiful copper pot and stirred with a wooden whisk! If you're unsure about which drink to get (because Jefferson's hot chocolate seemed like an amazing option, too) for $15 you can get a flight of three hot chocolates to try!
---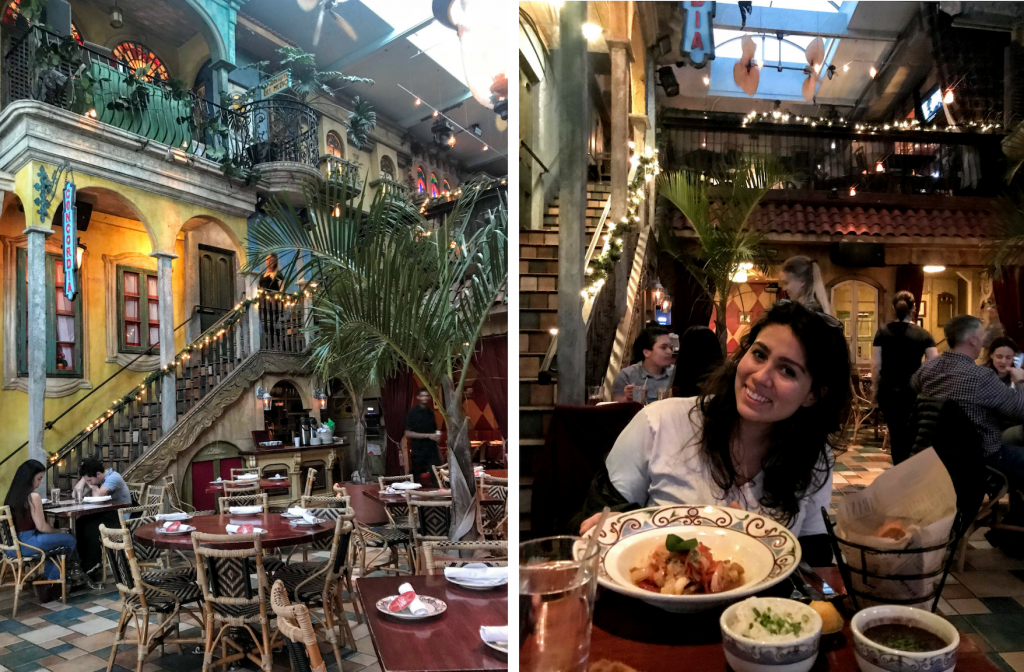 Okay, so Cuba Libre isn't exactly Colonial, but the interior is made to look like old Havana and, the way I look at it, Old Havana was founded before the 18th century… like Philly… sooo… there's that :). Plus, I was craving some latin food ;).

Come with an empty stomach because the portions here are HUGE and, if coming on a weekend evening, be sure to make a reservation on OpenTable! I had the shrimp cilantro-lime with rice that was good, but I hear that their brunch pancakes with mango-cinnamon butter are amazing.
xx,