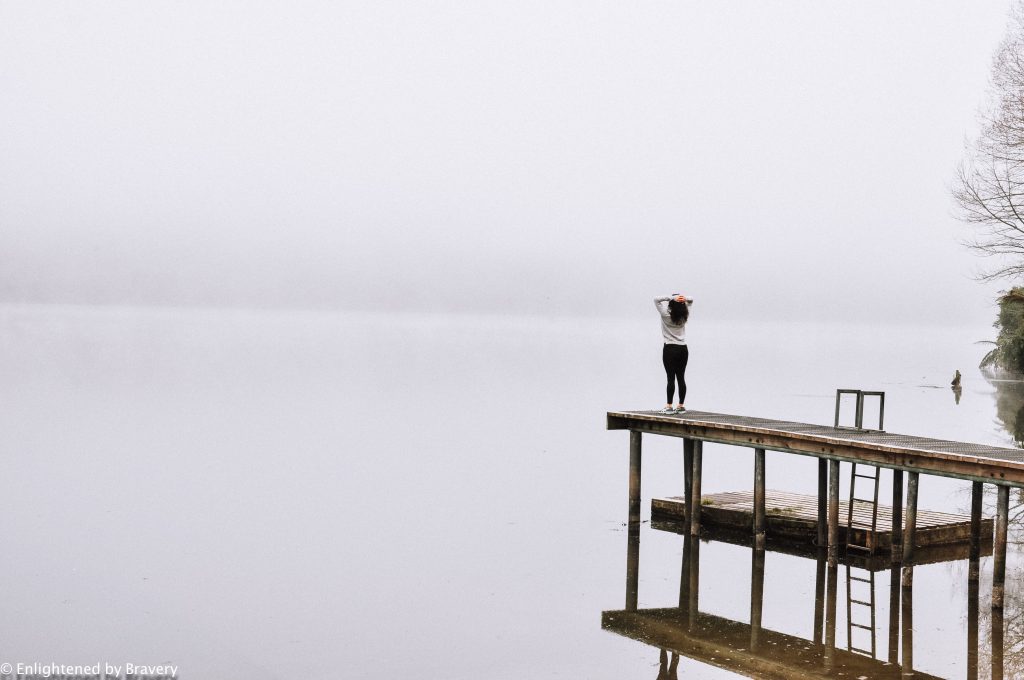 Editor's note: I always want my posts to come with a learning rather than be a vent session, so I laid low for a while to be a student to life, learn some of the lessons in private and come back with advice – I hope this helps anyone out there who may be dealing with the same.
After living abroad for a year where we: drove THOUSANDS of miles in our van, rental cars and busses, boarded 12 different flights and visited 6 insanely different (and beautiful) countries, I came back to New York a totally changed person. My mentality changed. My pace of life changed. But New York? It was the same. And that was the start of it.
To be honest, these have been some of the most confusing and difficult two months in quite a while for me. Coming from a state of mind of constantly being stimulated with "new" to having pretty much nothing stimulate me back home, well, I really didn't have much motivation to do anything— truthfully.
I soon found that all of the things that used to bring me joy and happiness here (before I left) no longer did that for me. Instead, I felt stuck, lost and was going through the motions. I'll be the first to tell you that I was lazily waking up at 10/11am every day and never really left the house. I wasn't active on social media much, nor did I really want to be social– not online and not in person. If I wasn't sitting on the bed playing Matchington (iPhone game similar to Candy Crush), I was in the kitchen just cooking all the time so I could release my frustrations in a more creative way.
There really wasn't much will for anything, just enough to get through the day.
I wasn't feeling like myself and it really made me frustrated. I LOVE being outdoors. I LOVE exploring. I LOVE being social and active. I LOVE seeking the new, the different — but none of that was jiving with me. It also didn't help that it's the dead of winter and if I wanted to go out NYC would give me the gift of hyperthermia. Thanks, but no thanks.
I started looking at my life and started questioning everything. Who am I? What's my purpose? I felt absolutely useless and purposeless (and that's such a sucky feeling to have). What did I want to do? I didn't know. I didn't want to know. I just wanted it to be night time so I can sleep and not have to think about anything.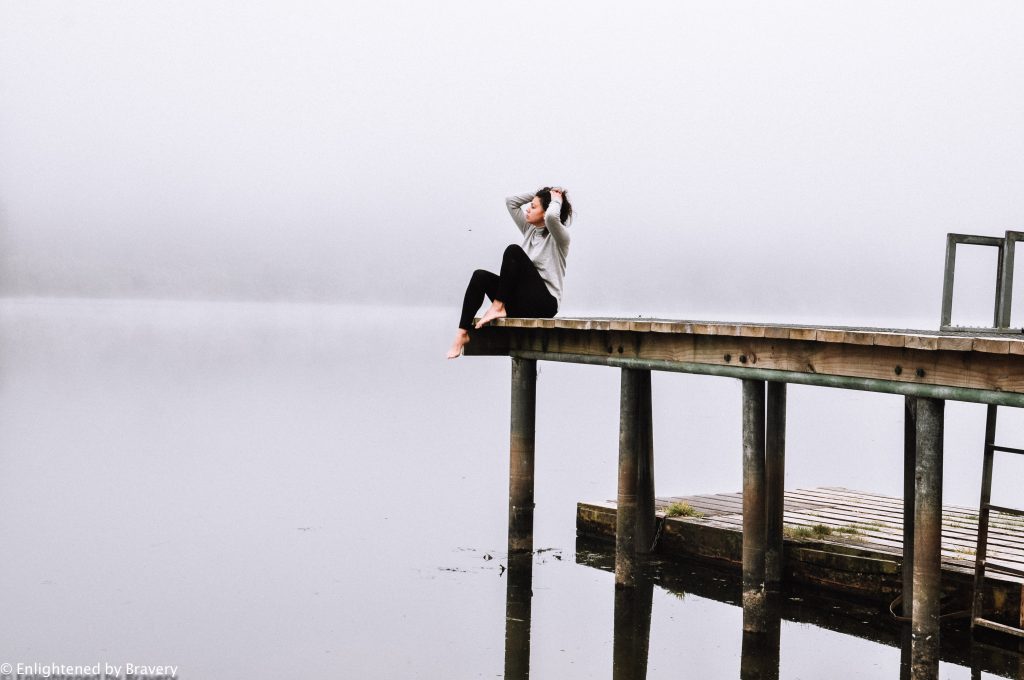 I came across a handful of post-travel depression articles in my research BEFORE we left for life abroad, but I really didn't pay much attention to them. "Nah, that won't happen to me; I've traveled a lot before and never felt that way," is what I'd always say.
The Aha Moment:
But you know what I learned? That you need to, 100%, admit it to yourself, in the mirror, that this is real, happening to you, 100% normal, and that you will get through it. And it was at that pivotal moment that I started to recover. You no longer are in denial. You accept. And as simple as it sounds, it was extremely hard to come to that conclusion and admit it to the one person who needs to hear it the most: you.
Forget the taboo. Years ago, seeing a therapist was seemed as if something was wrong with you. With the increase in mental health awareness, the fact that you get to see a therapist is amazing. It shows strength. Power. Will for a better tomorrow and thereafter. The same with admitting that you have depression. Admit it to yourself and keep moving forward for your better tomorrow and thereafter.
Proof is in the Pudding

:
That kickass person that saved money, was finding the best deals on travel/experiences, went away, communicated (even if BARELY) with strangers in a foreign language in order to survive, adapted, took chances on the craziest ideas, was extraordinarily nimble, was curious about life and beyond — that kickass person is STILL in there!! The skills, perspectives and everything else you learned will forever be a part of you. Just because your environment changed doesn't mean that you suddenly became (sorry for the harshness) stupid/worthless/less valuable than a piece of chopped liver. I once had a marketing executive give me an example at my previous job once where he woke up one day and his wife, all concerned, was like, "omg what if you lose your job today?" and his response was "so then I get another one? I move on and figure it out. Just because I lose my job doesn't instantly make me stupid and forget all that I know and have learned." And that's a good mentality to have, because though your environment has changed, you are still A FREAKING BADASS AND FORCE TO BE RECKONED WITH!
You see, when you travel (and especially live) abroad, you notice different values, patterns, customs and people. The beautiful thing about traveling is that exposure to 'different' makes you think past the superficial and into the depths of your soul. And oftentimes, changes you — for the better. That's why we bring back souvenirs and have a whole story to tell along with them; experiences from afar strung such a chord with us that we just needed to have a way to remember them back home. Even if it isn't physical, the memories are just as sweet. It's a beautiful moment in time, really.
Getting back to New York, I was picking apart all the things that I saw was 'wrong' with it. And by 'wrong' I meant 'what was not normal to me anymore." AND THAT'S OKAY. What else would you expect after you come home to the 'ordinary' after living the 'extraordinary?'
MOVING FORWARD WITH LIFE

:
Initially, when I searched the web frantically for some consolation to my woes, a lot of the advice I saw out there was "leave again ASAP" and, personally, that didn't jive with me. To me, that was escaping. And I SO BAD wanted to do it. SO BAD. But, the average American gets two weeks of vacation a year; are you expected to burn through that in one fell swoop?
After admitting that I had post-travel depression, my mentality shifted to this:
if I was able to adjust in other parts of the world on a different mentality than those of the locals, then I am capable of getting stronger with my mentality here back home, getting my sh*t together, and putting myself on a more sensible track to doing what I love and getting to where I want to be.
I don't think NYC will be our forever and ever home (or only home), but it is my home right now, and until I figure out the rest of my life's plans, I'm going to make the best of it. Let all of the amazing experiences away catch up with you. You'll soon start to see yourself getting creative again, motivated. And the universe will continue to guide you to where you're meant to be. You ran a marathon. This is your recovery period. Recover, because the kicking of a** will continue!!!
Summary
When you get home and are back from your trip, chill. Take it easy on yourself. This is normal. This process takes time.
Stay afloat. Don't spiral too downwards in your woes. I mean, hey, we all have our days, but know when to come back and just… float. Nothing more, nothing less.
Have honest conversations in the mirror about your frustrations, concerns, and be open about how sad you are. Consult a therapist or, as I did, a loved one. And journal. Journal as often as possible.
Start working out. I KNOW. You have no will or motivation. But after month one, start moving that body around. I promise, it will help. Even if just a bit. AND KEEP MOVING.
Find just one thing you find pleasure in doing and keep doing that one thing. For me it was cooking. What's your one thing?
Admit you're not only depressed but that you're a freaking BADASS. Sign up for a class. Watch some GaryVee or Tony Robbins. Get pumped. These guys believe in you.
Create a mini plan for what you want for yourself in the near future and start planning for that. Small goals, moving to bigger ones down the line. I want to drink more water, start up French lessons again, and eventually go to South America to visit family at some point before the year's end. Even if I get just one checked off, it's one in the right direction.
It's not such a fun story that I'm sharing, but it's something super important, super real and is a mental state that definitely needs to have some more light shed on it. We all go through our own post-travel depression levels and it's important to do what works best for you. But remain honest. Stay positive. And just know that, like all of your bad days that are now behind you, this, too, will be something you will overcome. It will be something we will overcome. And you know why? Because we're beautiful, global citizens that need a little reset before we go back out there again, learning more, sharing more, and doing more life-changing things.
xx,