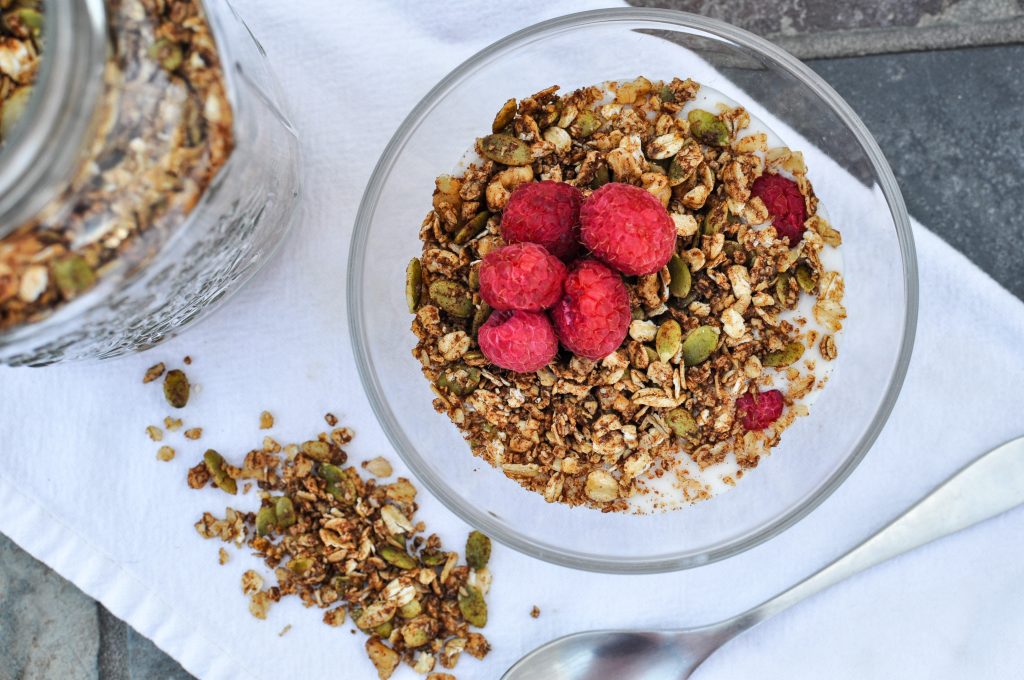 To be honest, my love of granola grew from my efforts of trying to make plain, unsweetened greek yogurt seem delicious years ago. Alone, the greek yogurt was tangy as heck (ugh, why). But with granola? Man, that crunch saved me. IT SAVED MY SOUL!
Yet, pacing down the aisles of the supermarket, I was baffled as to why granola wasn't pure in the sense that it seemed to have to have juices/syrups from concentrate to sweeten it and things like TOCOPHEROLS to keep it fresh. The really good ones I did find (more natural, organic, simple ingredients) were all at least $9/$10 for a little bag. Yikes.
So, I did my research and started making my own at home! I found that it wasn't as difficult as I thought it would be and having the power to control the ingredients made it everything I ever wanted and more. Throughout the years, I've done lots of trial and error, but it has brought me to tune the flavors into the easy, healthy and homemade granola recipe that I share with you today! It also happens to be my husband's favorite — a big compliment, as he can sometimes be a bit of a food snob. What? I keep it real ;).
I promise that when you're making these in the oven, your kitchen is going to smell like someone lit up a cinnamon-vanilla candle (best part? you can eat this!). Put it in your favorite yogurt, atop of smoothie bowls, or just have it with your favorite milk/mylk as a cereal! Enjoy!
---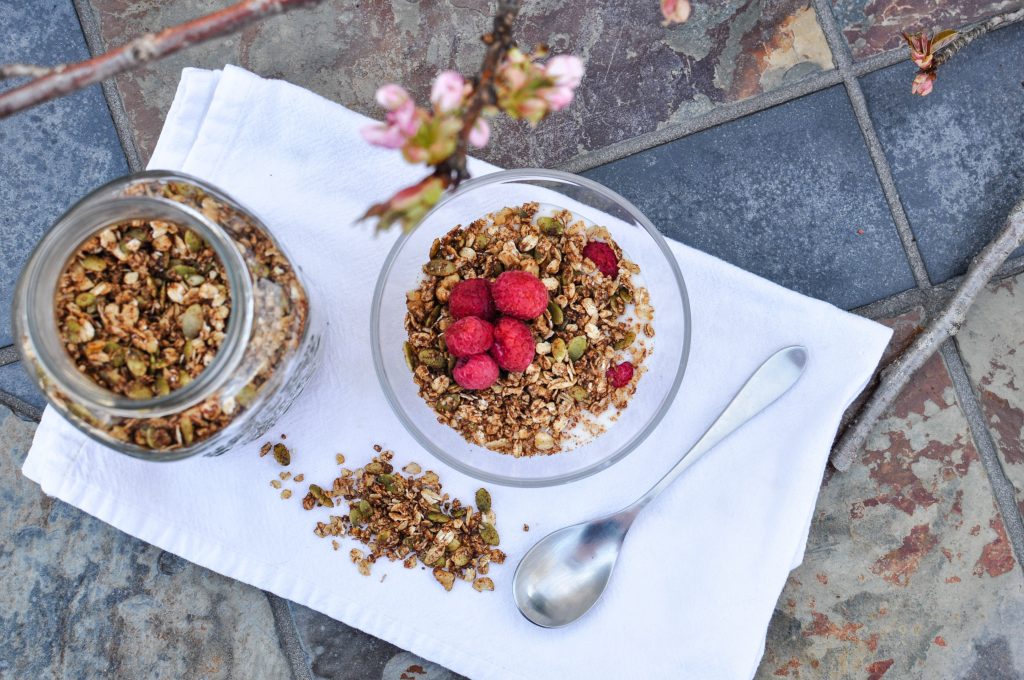 Healthy Homemade Granola – total prep, cook + cool time: 40 mins
yields 3.5 cups of granola. keep in an airtight container for up to 2 weeks.
gluten-free*/vegetarian/dairy-free

* 1 TBSP virgin, cold-pressed coconut oil
* 2 cups rolled oats (gluten-free* oats if making gluten-free)
* 1/2 cup pumpkin seeds
* 1/2 cup walnut pieces
* 1/4 cup raw, local honey
* 2 TBSP ground cinnamon
* 1/2 tsp vanilla powder**
* 1/8 tsp (or a pinch) of ground, pink himalayan sea salt

1) Preheat oven to 300ºF and line a baking sheet with parchment baking paper. set aside.
2) In a pan over medium heat, melt the coconut oil. once melted, swirl around the pan and add in your oats + pumpkin seeds. make sure to coat them evenly with the oil. let toast while constantly stirring for about 2-3 minutes (do not burn. if you start to smell popcorn, lower the heat). remove from heat.
3) Place your oats + pumpkin seeds into a large bowl. Add in the walnut pieces, honey, cinnamon, vanilla and pinch of salt.
4) Combine (I love to use my hands for this) ingredients are all well mixed. Reach over for your prepped-ahead baking sheet with parchment paper and pour in mixture, making sure to create a think layer across the whole pan.
5) Pop baking sheet into the oven for 8 minutes and then remove to toss, mix up, relay into thin layer, and pop back in oven for another 8 minutes. Granola should be turning into a nice golden brown color.
6) Remove from oven and let sit to cool down for at least 15 minutes before storing. Enjoy!

*while oats are naturally gluten-free, if your product does not state that it is gluten-free, then it probably has been in contact with other wheat products. if very sensitive to gluten, please ensure you use gluten-free oats.
**vanilla powder does not have the alcohol usually found in liquid vanilla extract and you get a more concentrated taste with it; however, if using vanilla extract, ensure it is 100% pure and substitute the powder above with 1 tsp of extract.
xx,