WFPB Dark Chocolate-Cherry Breakfast Muffins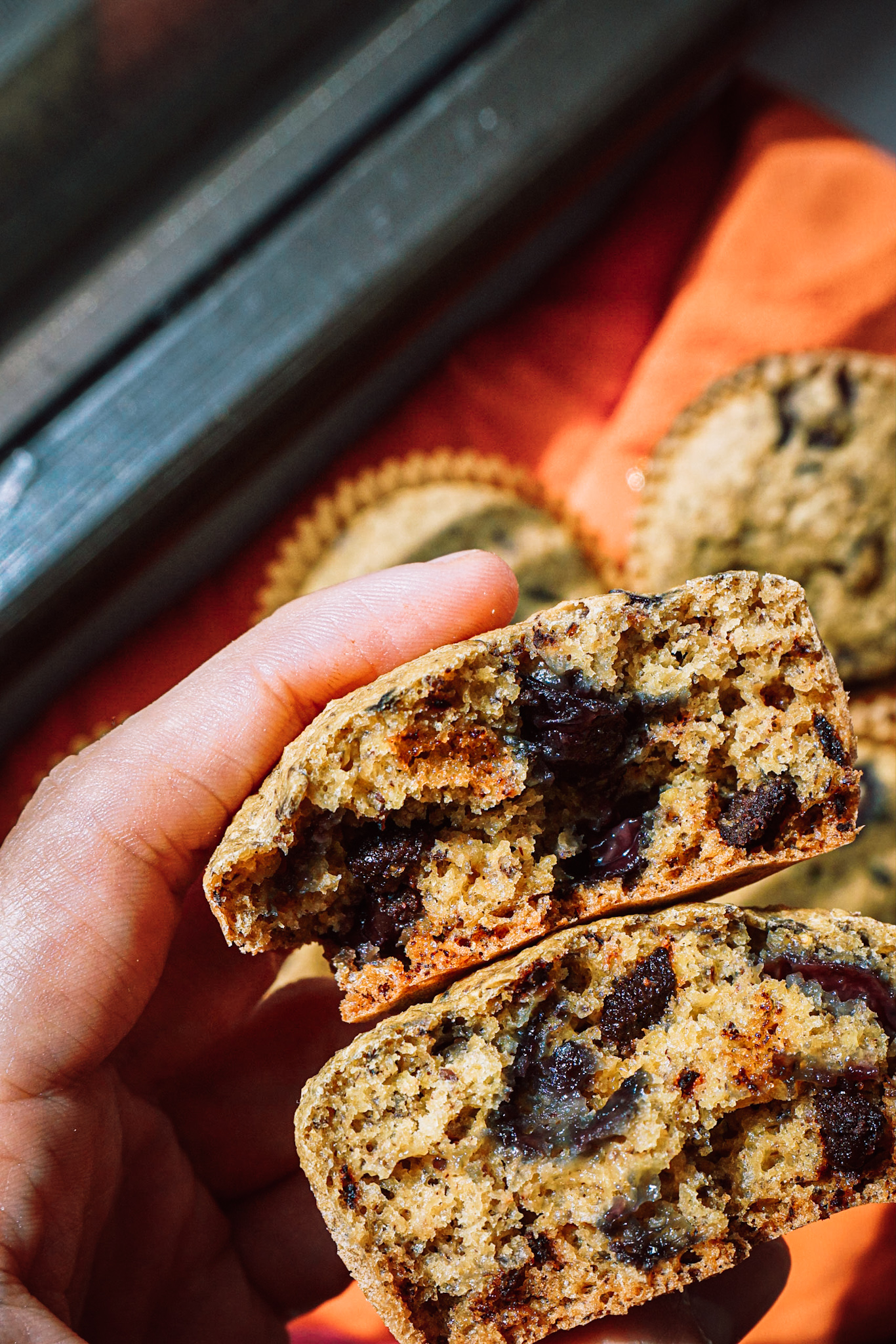 I jumped out of bed the other day and headed into the kitchen with one thing in mind: dark chocolate-cherry breakfast muffins. It started out as "muffins," but when I thought about what I had in my pantry, the whole idea quickly came together.
I slipped on my shoes, gathered all the ingredients and started mixing. After the muffins were popped into the oven, I went back and popped myself back in bed. It was nice to stay cozy for an extra half an hour in bed, relaxing to the sounds of the birds outside and meeting the whole experience with a big smile as soon as the muffin aroma started coming in from the kitchen. Gosh, how easy it is– I love ovens. One of the little things I am most grateful for.
I took the muffins out of the oven and let them slightly cool for a few minutes before pouring myself a glass of almond mylk and enjoying them warm — my favorite way! They aren't very sweet, are filled with ingredients that are known to have higher levels of antioxidants and are as wholesome as can be. Needless to say, the muffins were all gone by the time evening came around. I guess they were a hit :).
Make a wholesome hit in your home — recipe below :).
WFPB Dark Chocolate-Cherry Breakfast Muffins
😋 makes 10 muffins || ⏲️ ~40 minutes
Ingredients
1 cup whole wheat pastry flour
1/3 cup oat flour
2 tsp baking powder
1/2 tsp baking soda
pinch of pink salt
1 cup almond mylk
1/3 cup maple syrup
1 cup fresh or frozen cherries (thawed a bit), no pits, chopped up
1/4 cup dark chocolate pieces, chopped up
Directions
Preheat oven to 375°F/190°C and line a muffin tin. Set muffin tin to the side.
In a large bowl, mix your dry ingredients until well combined: whole wheat pastry flour, oat flour, baking powder, baking soda and pink salt.
After all is well incorporated, add your wet ingredients: almond mylk and maple syrup. Mix well; add a splash of extra almond mylk if you feel your batter is a bit dry.
Finally, add in your chopped cherries and dark chocolate pieces. Once mixed in, place batter into muffin tins and pop into oven for ~25 minutes.
Once done, remove from oven and let cool for just a few minutes. Enjoy! :).
xx,

ps: let me know if you've tried this recipe in the comments section below :)!