Vegan Strawberry Dark-Chocolate Crêpe Cake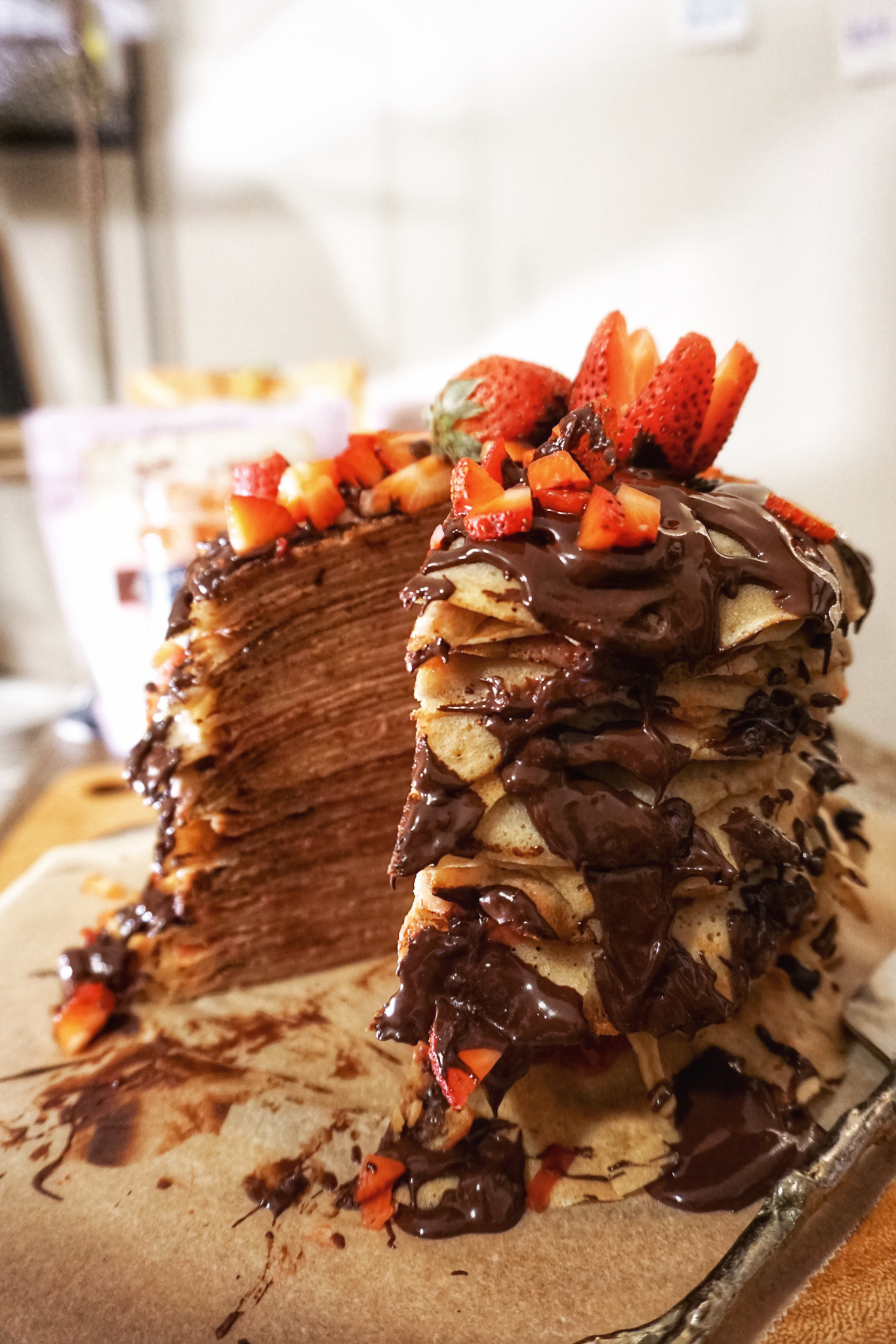 This 50-layer crêpe cake was both a labor of love and fun! I made it LIVE on Twitch and, for those who joined the broadcast, know how long making the crepes took. This recipe is going into my recipe archive because the ingredients are simple and it tastes so yum! My tip? Get two — or even three! — non-stick pans going on the stovetop at once; but, just be sure to keep an eye on them!
Though I would have loved for the cake to look "perfect," (you know, with smooth rounded edges), I appreciated the rustic style it was taking and ran with it.
A thin spread of homemade strawberry jam went in-between each layer and the whole thing was topped with melted dark chocolate and fresh pieces of strawberry.
I like to call this my deconstructed chocolate-covered strawberry crepe cake, but for SEO purposes, we'll go with the title above ;).
The final product was this moist and not-too-sweet dessert that had my tastebuds going crazy after each bite. A word of advice? Make sure you have a few people to share it with because it's a lot of cake! :).
VEGAN STRAWBERRY DARK-CHOCOLATE CRÊPE CAKE
FOR CREPE CAKE :
Makes about 50 crêpes (yes, I know this may seem like *a lot*, but that's what is needed!)
10 cups whole wheat pastry flour
4 TBSP tapioca flour
Generous pinch of ground pink himalayan salt

10 cups almond milk
3/4 cup maple syrup
4 tsp vanilla extract or powder
Mix all dry ingredients and then add in the wet ones. Mix very well to combine. Batter should be thin and not thick. Put a nonstick pan on stovetop and set on low. Once hot, pour in a 1/4 cup of batter and wait until the edges turn brown (about 2-3 minutes). Gently use a spatula to peel it off and flip it over; let cook for 1 minute on this side. Place to the side and repeat instructions with all batter until all done!
FOR QUICK STRAWBERRY JAM:
2 cups Frozen or Fresh Strawberries
1/4 cup maple syrup
1 TBSP fresh squeezed juice of a lemon or an orange
1/4 cup arrowroot powder (for thickening)

Place berries in a saucepan and let it simmer for about 15-20 minutes. Mash up the berries. Add in the maple syrup and citrus juice. Taste and adjust sweetness to your liking. Using a sifter, slowly add in the arrowroot and whisk to avoid clumps being formed. Let cool before using.
ASSEMBLING YOUR CAKE: Place your favorite fruit spread in the middle of each layer (I used the straberry jam below!) and then top with some melted dark chocolate (like I did!) and sprinkle some fruits around/on top. Feel free to use any other variety of fruits you'd like: blueberry, cherry, apricot, etc.
Enjoy!
xx,