WFPB Tacos: So Colorful and Delicious!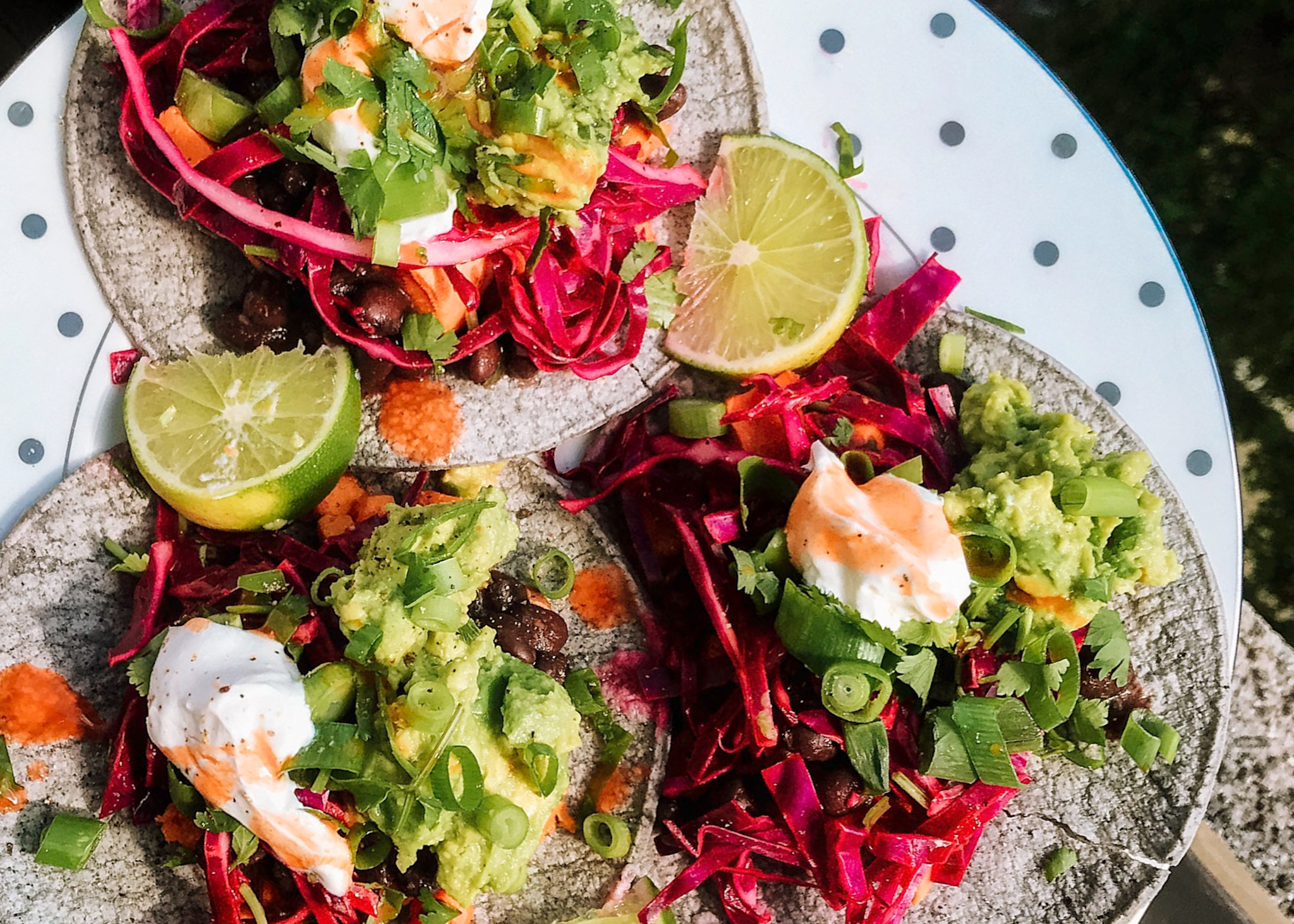 The bright red, crunchy cabbage is what you'll taste as soon as you bite into these delightfully pleasing WFPB tacos. Or, perhaps, it's the sweetness from the sweet potatoes, or the creaminess from the fresh guacamole on top. No matter what your palate detects first, it is going to be an orchestra of flavors and deliciousness!
These whole-food plant-based tacos are a great idea for group gatherings as they can be served family style as everyone can put more or less of something they are craving. I'm team "load up the black beans." They are also great for a nice dinner at home :). Additionally, if you are new to plant-based eating and you want to start "meatless monday" chez vous, this is a great recipe to try as well.
Feel free to make it your own by adding your favorite toppings (freshly sliced chili peppers, onions, tomatoes — the options are limitless!). And remember, enjoy the process of not only making, but also *eating.*
This is one of our favorites chez nous and I hope it becomes one in your home, too :). I recently made it LIVE on Twitch and you can find that video here!
WFPB VEGGIE TACOS
<<serves 2 hungry humans>>
SWEET POTATOES:
• 3 medium/large sweet potatoes
• salt + pepper
>> preheat oven to 450°F. peel and cut up sweet potatoes into small cubes (about 1/2"). Add in a splash of water and season with salt and pepper. mix well and lay on a baking sheet. bake in oven for ~20-25mins, flipping halfway through and fork tender.
⠀⠀⠀⠀⠀⠀⠀⠀⠀
BLACK BEANS:
• 1 can black beans WITH LIQUID INSIDE (aquafaba)
• 1/3 cup tomato sauce
• garlic powder
• salt and pepper
• cilantro, freshly chopped (optional)
>> place all into a pan and mix; cook on low. season to your taste preference.
⠀⠀⠀⠀⠀⠀⠀⠀⠀
RED CABBAGE SLAW:
• 3 cups thinly sliced red cabbage
• juice of 1-2 limes
• salt + pepper
>> mix all ingredients into a bowl until well incorporated and let sit aside until ready to use.
⠀⠀⠀⠀⠀⠀⠀⠀⠀
SUPER SIMPLE GUAC:
• 1 ripe avocado
• juice from 1/2 a lime
• garlic powder
• salt + pepper
• cilantro, freshly chopped
>> mash avocado in a bowl and add the rest of the ingredients. season to your taste preference.
⠀⠀⠀⠀⠀⠀⠀⠀⠀
BASE + GARNISH:
• warm corn tortillas (ours were blue corn!)
• scallions, freshly sliced
• cilantro, freshly chopped
• juice from squeeze of lime
• sour cream (we used @tofuttibrands vegan one)
• hot sauce (we love @greenportfire)
⠀⠀⠀⠀⠀⠀⠀⠀⠀
SERVE FAMILY STYLE OR PLATE INDIVIDUALLY. ENJOY! 🎉
Let me know in the comments below if you tried them!
xx,