Embracing the Snow at Art Omi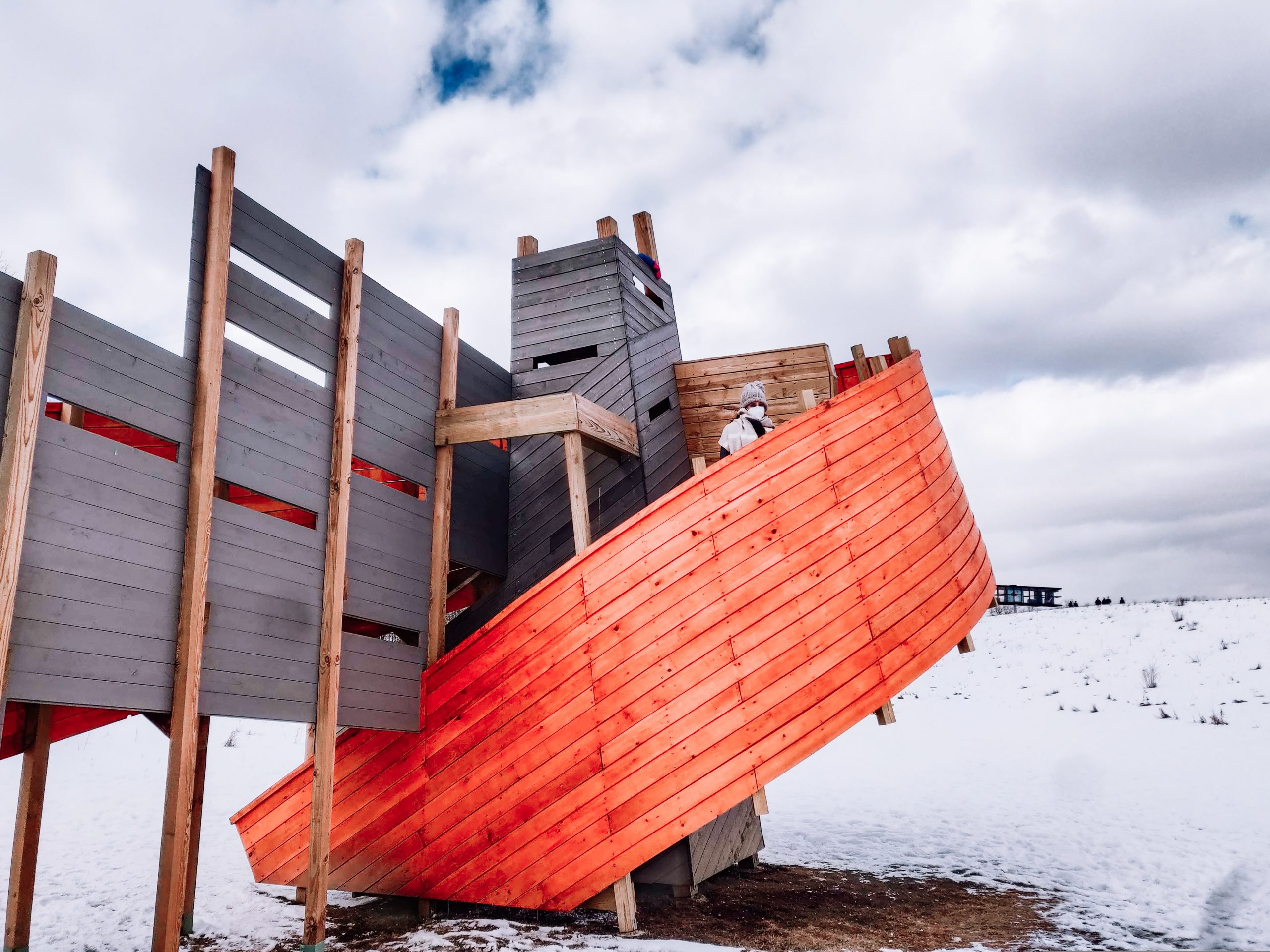 Sometimes, you just need an escape. And during the pandemic, where we have all had to stay home for over a year now, this was needed more than ever. I've never really enjoyed the snow unless I was doing an activity like skiing, but darn it, I guess I'm learning another lesson from life. Friends, this was so nice. Such a lovely activity either alone, with family or friends / pods.
We packed ourselves into the car and drove on up about 2.5 hours from NYC towards Art Omi in Ghent, New York.
Art Omi is a 120-acre art park and gallery all in one; it is a non-for-profit and admission is free. You also don't need to have a reservation. This is extra alluring for those of us who like the spontaneous and "no rush" attitude it comes with ;).
The space is open from dawn until dusk and during the winter you are most welcome to bring your own cross-country skiis, snowshoes and sleds! Ski resorts have been pretty overbooked during the pandemic, so this is a sure way to still have some fun in the snow — without the mega crowds.
Initially, I didn't think that there could possibly be that much space and snow, but boy-oh-boy was I wrong.
There is a visitor's center you can go into to get a map, but note that the restrooms are currently closed (there are, however, two porta potties in the parking lot area). Do not miss the cute little art gallery they have inside that is on rotation — we saw some lovely work! I especially loved this blue painting with the jeweled flower headpiece.
The sculptures are scattered all around and it's fun to head into the woods to try to find them all — those are the toughest! I appreciated the little placards by art installations themselves that allowed us to either confirm or correct our inital assumptions. Note: some art allows you to touch and climb them — these are noted in the "explore map."
I was actually so super surprised at one installation that reminded us of Auckland, New Zealand and, as it turned out, was actually a sculpture made by an artist who currently lives in Los Angeles, but is originally from Auckland, New Zealand! *Go us!*
We walked around Art Omi's grouds for about two hours, enjoying all the art and the snow! It was definitely a workout for me (hey, we've been hiberating at home the whole past year!), but it is wonderful to walk around some really open spaces. Tip (it may go without saying, but): dress warm and have snow/waterproof shoes!
At one point, you feel like you are in another land. It doesn't feel like New York (so much left to discover). It feels like Iceleand or something; purely magical! And what makes it extra special is having others around having fun as well! I've missed being among people and just having fun.
I couldn't believe how this apartment (below), made of wood and concrete and found atop of a hill, was able to balance and rotate! From my understanding, it should naturally house someone inside and shows the relationship between the space and its inhabitants.
A lovely treat after all that walking at Art Omi was surely some pizza (~15 mins drive away) from a popular place in Hudson — Baba Louie's. They offer a veggie pie called the Vegetazione Bravo Spelt that comes loaded with artichokes, broccoli, peppers, tofu and herbs! (Keep it vegan by removing the chèvre (goat cheese!)) The crust is a lot thinner than your regular New York slice, but it's still totally delicious. Their pizza is woodfired (my favorite) and can be customized with a sourdough or spelt crust!
Going away for just a few hours to Art Omi was so super refreshing. It's revving up my future adventures!! I loved being able to just walk in so much open space (even in the snow!) and enjoy the fresh air. The cherry on top was definitely the lovely sunset we had as we drove back down home <3.
xx,