hit the reset button with your little something
I'll fill you in on a little secret.
Work this past week has been stressful.  And while I am getting better at managing my stress, sometimes there is just so much going on that I feel like I just want to do laps around the office and scream.  Knowing that there are two paths to consider when confronted with something that causes stress and anxiety, I always opt for the 'taking it easy'; however, I will admit, there are days that I do slip and don't remember that those exist.  So naturally, I get stressed out.
Yes, I am guilty.  But I don't feel too guilty, because I understand that I am human and that I will slip and make errors.  And realizing this is good.  Because if I put myself under the expectation that I will be perfect, then I will just drive myself, well, perfectly insane.  To think that life will be flawless and that you will never encounter an uncomfortable situation is not realistic.  Every day, curve balls are thrown at us.  Truth is, we cannot control the environment.  However, what we can control are ourselves.  Yes, life will be rough, but sit and reflect.  Is there something that we can do to keep our sanity?   Because at the end of the day, we all go to bed.  At the end of the day we all have 2 or 3 minutes to ourselves to quickly plan.  What is that certain something that will jump start the trajectory to a better tomorrow? A better sense of sanity?  A better state of health?  A better you?
You know, the past few days had me almost ripping my hair out, but I sensed that tension and didn't go home and let it just bottle it up inside of me, nor did I let it out on my husband.  No, I took the time and went to yoga on Tuesday.  On Wednesday, while in the office, I may have wanted to just throw my hands up in the air because I felt like I was completely overwhelmed, but instead I took a few minutes and meditated in the restroom.  It's all about finding that little something that you see as an outlet to release and let go.
Now, onto my little secret.  While I love yoga and meditating, every now and then I need something else that really lets me release frustrations and allow myself to be a goof ball (not just something to calm my tensions).  Want to know what I do sometimes after work every now and then?  Are you sure?  Promise not to laugh?  No, it's okay if you laugh.
I go karaoking.  Alone.
Yes, I take my little self to a karaoke place, walk up and bravely say "room for one, please."  And there I am.  In a room.  Made for singing.  But if you put a rock song on, you're made for screaming.  And if you put on the fancy lights and the music really loud, you're made for dancing.  The best part about this is that it's only you and no one else.
I know, I'm silly.  And you may find this weird.  But to me, this is my little something that makes me feel so much better.  Yes, I can most definitely do it at home (and for free), but sometimes someone else is there or I may disturb the neighbors. But there is no worry inside my little karaoke room.  I find such a release in singing, and while I'm no professional, it gives me that little something that releases.
Your little something doesn't have to be singing.  It could be punching a bag at the gym.  Maybe it's getting a massage (think of the tension in those muscles!).  Or maybe, it's going for a long hard run while listening to your favorite song.  Your little something doesn't have to cost a thing.  But finding your little something is something that I hope everyone tries because once you have found it, you can look forward to this little guilty pleasure.  It helps validate ourselves.  It tells us that we are worth it.  And it's making time for ourselves to just release.  I'll never give up my yoga, because I find it so helpful.  But I can look forward to giving myself my own little concert once in a while, no? 😉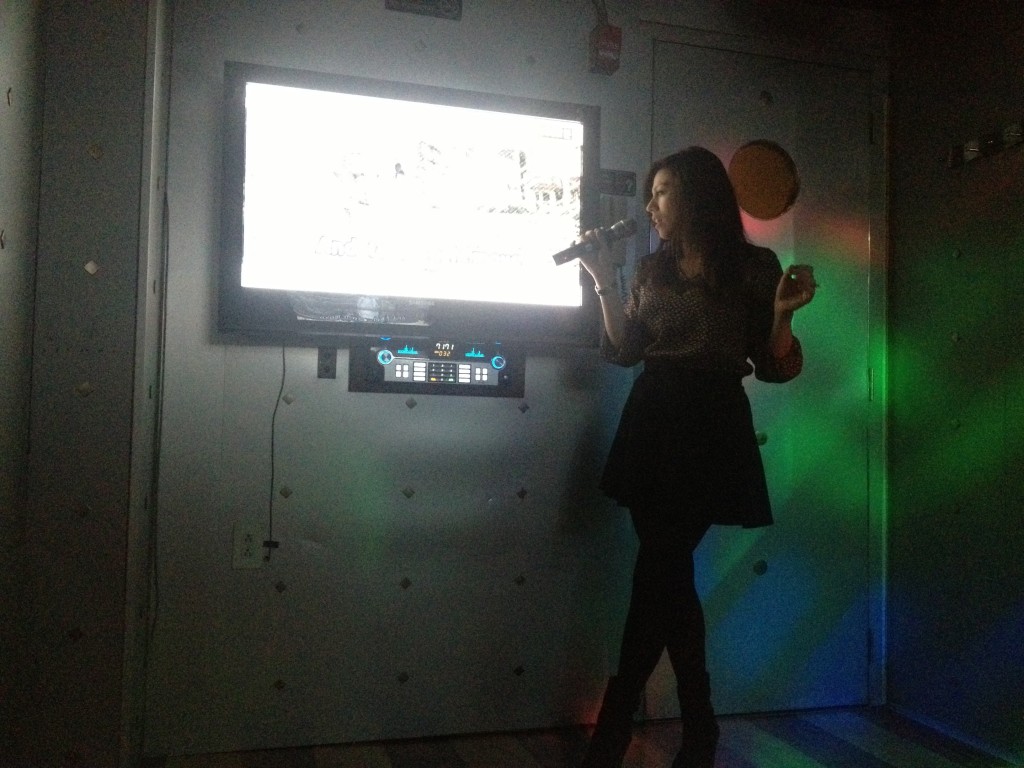 Hit the reset button with your little something.
Loren.