WFPB Banana Walnut Oatmeal Recipe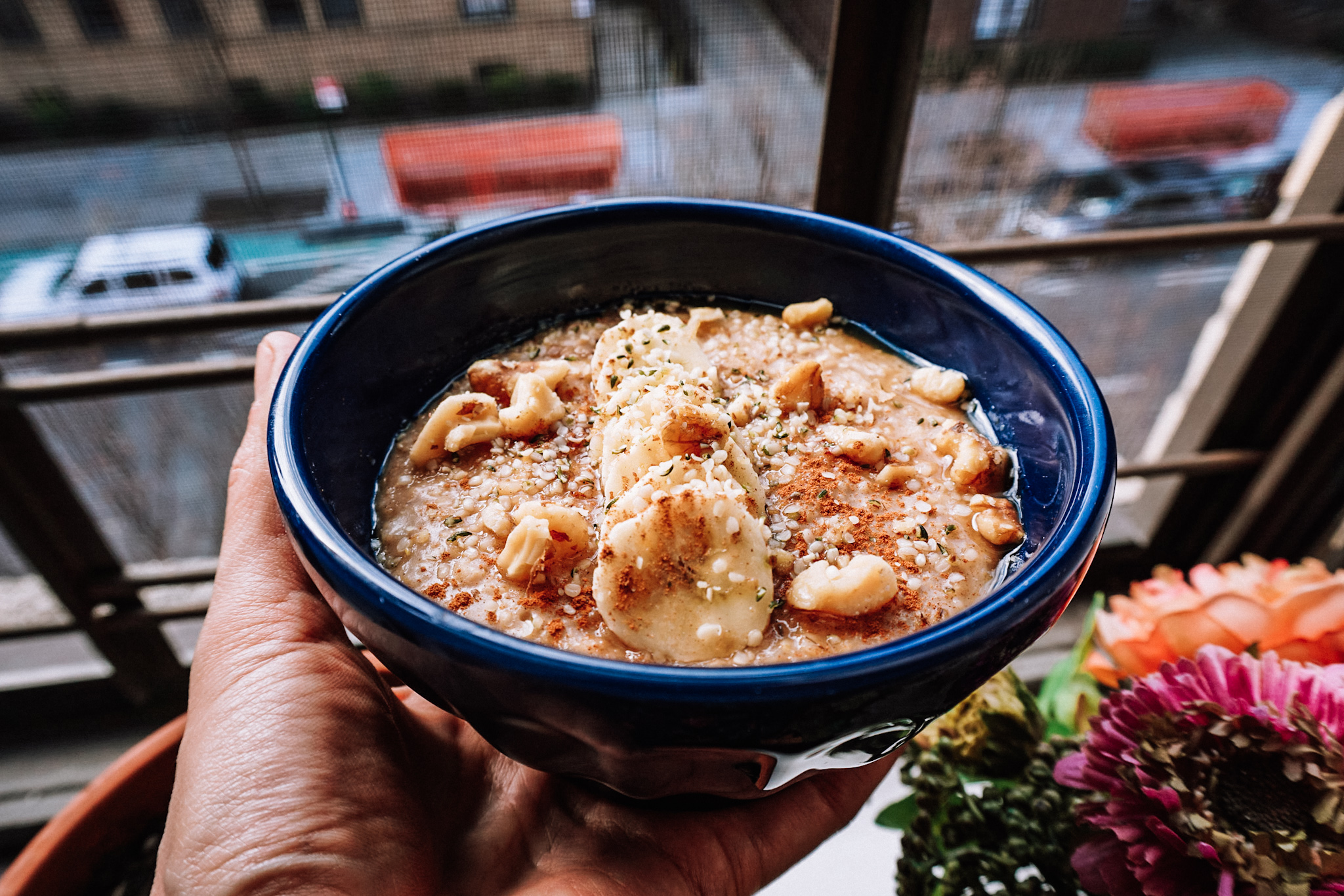 This is an ode to that delicious banana-walnut bread we all love so much — only in oatmeal form! Forget turning on the oven for this recipe as the yummy flavors can be combined on your countertop and all cooked up on your stovetop!
I love using steel-cut oats as they sit in your tummy longer than regular quick oats (but, steel-cut oats also take a little longer to cook, so you get what you put in!); however, quick oats also work well here– just be sure to have everything ready before cooking since it's, you know, quicker ;).
Speaking of oats, if you find yourself with some extra and want to turn that into granola, check out this delicious granola recipe here — ugh, so good!
Now off to the banana walnut oatmeal recipe!
WFPB Banana Walnut Oatmeal
😋 serves 3-4 || ⏲️ ~15 mins.
Ingredients
Oatmeal Base:
1 cup steel-cut oats
2 cups water
pinch of salt
1/4 cup almond mylk
Flavor Mix:
2 bananas (1.5 bananas to be used for mashing — the remaining half will be used for garnish)
1 teaspoon ground cinnamon
1 tablespoon maple syrup
1/4 cup walnut pieces
pinch of nutmeg (optional)
Garnish:
1/2 banana (cut into slices)
a few walnut pieces
dash of ground cinnamon
light drizzle of maple syrup
sprinkle of hemp hearts
Directions
Place oats, water and salt into a pot over high-heat and bring to a boil, stirring ocassionally. Once at boiling point, lower heat to a simmer. Add in almond mylk. Keep Stirring.
In a small bowl, mash up the bananas with a fork until it becomes very mashed (about 30 seconds). Add in ground cinnamon, maple syrup, walnuts (and nutmeg if using) and mix all together.
Place all ingredients from your bowl into the pot with oatmeal, turn off the heat, and mix well to incorporate. (note: if you'd like your oatmeal a little more thick and less liquidy, continue cooking until it reaches your desired consistency 🙂).
Place a serving into a bowl and garnish with sliced bananas, some more walnut pieces, dash of cinnamon, light drizzle of maple syrup and some hemp hearts if you have on hand! (hemp hearts add omega-3's!)
Enjoy! :).
xx,

ps: let me know if you've tried this recipe in the comments section below :)!